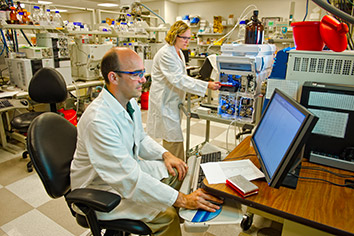 Eli Lilly and Co. will add 50 more employees at its research and development center in New York City over the next year to beef up its work on using the immune system to fight cancer.
The Indianapolis-based drugmaker has had a research hub in New York since its 2008 acquisition of the cancer firm ImClone. Lilly opened its current facility there in 2010, and it now houses 125 Lilly workers.
Recently Lilly has been building up a team in immuno-oncology to catch the next wave of innovation in that hot area. In the past year and a half, Lilly has announced about $500 million in external partnerships aimed at developing immuno-oncology drugs.
A team of Lilly researchers in Indianapolis has also been developing immuno-oncology drugs since 2002, and has their leading experimental drug in a Phase 2 clinical trial right now.
"This is one of the most exciting times to be in oncology," Dr. Richard Gaynor, senior vice president of product development and medical affairs in Lilly's oncology division, said in an August interview. "If it's a mile race," he added, "we're at most at the 100- or 200-yard mark."
The expansion in New York is the third such announcement Lilly has made this year. In May, Lilly announced it would build a delivery and device innovation center in Cambridge, Massachusetts, employing about 30 people. In July, Lilly announced an expansion of its biotechnology center in San Diego, California, which will add 130 workers there.
Lilly still employs 4,400 R&D workers in Indianapolis, the biggest chunk of its 7,000 R&D employees worldwide.
In an interview with IBJ last month, Lilly CEO John Lechleiter said the company intends to keep Indianapolis as its hub for research, but wants to make sure the city remains competitive for attracting highly sought employees.
"On the whole, we do not have difficulty attracting people to Indianapolis, in terms of recruiting and transferring people here form our other operations," Lechleiter said. "Now having said that, it's a very competitive world we live in. I think the kinds of things that differentiate Indianapolis, the kinds of reasons that people would want to live here rather than somewhere else, are things we really need to understand and appreciate, not to take for granted and continue to build on."
Please enable JavaScript to view this content.