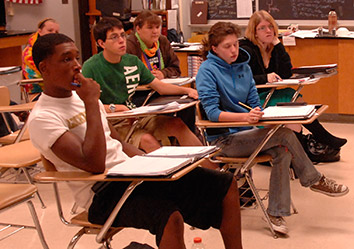 ISTEP test passing rates could plummet about 16 percentage points in English and 24 percentage points in math compared with 2014 if the Indiana State Board of Education approves a recommendation from educator panels Wednesday.
Those changes are significantly larger than in prior years. ISTEP rarely has swung up or down by more than a few percentage points since 2010.
But there's a good reason, Indiana Department of Education spokesman Daniel Altman said.
"It's not exactly an apple to apples comparison because this is the first time we've been testing on new standards," he said. "With more rigorous standards come higher expectations as well."
Setting standardized test passing rates is an inexact science. Panels of educators work with test companies to determine just how much they think students can achieve and then reach a consensus for where the state board should set the cut-off score.
Although the process Indiana uses to set passing scores is widely used and considered valid, some experts think politics can too easily get in the way. State agencies, such as the state board, have the leeway to alter the passing rates because they set the cut-off scores after they see how they could affect the state test passing rates.
The biggest swings in passing rates would be in math. Almost 82 percent of eighth-graders passed in 2014, but about 52 percent would pass in 2015 if the board approves the recommended scores.
Seventh-graders also would face an almost 30 percentage point drop. The highest percent of students passing math would be 66.5 percent in fifth-grade.
In English, passing rates would drop as much as 18.8 percentage points for fifth-graders, with 62.7 percent pasing in 2015, down from 89.3 percent in 2014.
The highest passing rate for 2015 English would be for third-graders at 70.9 percent. Overall, scores would shift to about 65 percent of students passing English in 2015, down from 80.7 percent of students passing in 2014.
About 59 percent of students would pass math in 2015, down from 83.5 percent in 2014.
State Superintendent Glenda Ritz has warned for months that test scores would fall with a tougher exam based on more challenging academic standards. But her calls for relaxing the state's A-to-F grading system during the transition to the new exam have been rejected by the state board.
"It's not fair to schools; it's not fair to kids; it's not fair to communities," Altman said. "If you have all of a sudden a lot of school that aren't doing well on their (A-to-F grades), that has a significant impact on real estate values across the state. It has impact on economic development."
State board spokesman Marc Lotter said that with new tests, passing rate drops aren't unusual—in Indiana or across the country. Other states, including Illinois, New York and Kentucky, also have reported score declines as they switch to tests designed to measure more challenging academic standards.
"The most important message out of this is that we not get singularly focused on a score drop or a change in scores from two tests that are completely different, and one test is much more difficult," Lotter said. "And we need to remember why we are doing this in the first place: to make sure Hoosier kids are leaving school prepared for success in life."
For states adopting new standards and new tests, the U.S. Department of Education has offered some relief for the year the switch happens.
Indiana has not pursued this option to "pause" accountability and alter a "waiver" agreement that released the state from sanctions of the federal No Child Left Behind Law. The waiver was renewed without changes to A-to-F grading for another three years in June.
Lotter said the state board couldn't change how grades are issued this year anyway. That would require the Indiana Legislature to change state law.
A legal opinion from September written by Matt Light, with the state's attorney general's office, blocked Ritz's proposal that A-to-F school grades be "paused" for 2014-15.
Ritz had suggested grades only be changed and made public if they were better than those from 2014. If scores went down, she said, grades should stay the same.
Ritz and her team have tried to persuade the state board to "pause" accountability and school grades several times.
Recently, those arguments have been spurred by difficulties schools have had quickly implementing new academic standards and giving new tests after Indiana dumped Common Core standards in 2014.
"We've been working on more rigorous standards that obviously also have a more rigorous assessment," Altman said. "The problem is the accountability system treats it like it's the same thing we've done in the past when it just isn't. And you can tell it isn't when you look at the numbers."
Please enable JavaScript to view this content.