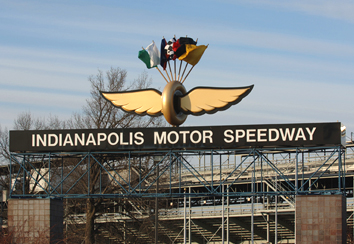 The Indianapolis Motor Speedway will host the most prestigious amateur road-racing event in North America in 2017, the Sports Car Club of America announced Wednesday.
The SCCA National Championship Runoffs will take place on the Speedway's road course Sept. 29-Oct. 1. The same 14-turn, 2.439-mile course also hosted the Formula One World Championship and the IndyCar Series' Grand Prix of Indianapolis.
The Runoffs crown multiple amateur racing national champions in numerous classes. The 2015 edition awarded championships in 27 classes and featured hundreds of drivers.
The year-end  event, founded in 1964, spent its early years alternating between Riverside International Raceway in California and Daytona International Speedway in Florida before moving to Road Atlanta in 1970. It remained there for 23 years before spending 11 years at Mid-Ohio Sports Car Course in Lexington.
In 2013, the SCAA announced the event would begin rotating to popular tracks around the country.
It took place at Mazda Raceway Laguna Seca  in Monterey, California, in 2014 and at Daytona in 2015. It is set for a return to Mid-Ohio in 2016.
Indianapolis history and SCCA history are intrinsically linked. Countless SCCA graduates have competed in "The Greatest Spectacle in Racing," with Mark Donohue and Bobby Rahal earning both a Runoffs title and an Indy 500 win in their careers. Indy 500 winner Buddy Rice drank the milk but couldn't collect a Runoffs win; current competitor Graham Rahal is the youngest Runoffs champion, but still has a chance to add his name to the Borg-Warner Trophy.
"As a racer, I know that the American dream of being a racecar driver starts with the Indianapolis 500," Lisa Noble, SCCA president and CEO said in a written statement. "I'm very moved by this significant moment in SCCA history as I am by the Speedway every time I enter the gate. Each of our champions will have an incredibly special honor – to be crowned on the most hallowed ground in American motorsports."
Founded in 1944, the Sports Car Club of America  is a 67,500-member motorsports organization that incorporates all facets of autocross, rally and road racing at both amateur and professional levels. It annually sanctions more than 2,000 events.
"Many Indianapolis 500 veterans have their racing roots in SCCA competition, so hosting the SCCA national championships at the Indianapolis Motor Speedway is a natural fit," Speedway President Doug Boles said in a written statement. "The Runoffs will provide drivers who have dreamed of competing at the Indianapolis Motor Speedway an opportunity to do so and will hopefully motivate some participants to continue on the path to compete in the Indianapolis 500 someday."
 
Please enable JavaScript to view this content.