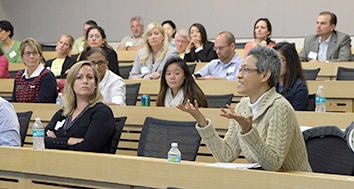 Recent research has found that high-growth startups with women on their management teams outperform those with all-male teams—a discovery that has spurred several central Indiana organizations to step up efforts to boost gender diversity.
The Purdue Foundry at Purdue University announced this month that in 2016 it plans to launch a program called WomenIN, which will open to women across the state its entrepreneurial resources that are now restricted to Purdue students and faculty.
Earlier this year, a few male and female investors joined forces to start a local women-focused venture firm called One Torch LP. The firm declined to comment at this stage of formation, but a few public references suggest its investment philosophy is based on the outsized value that gender-diverse teams provide.
Indianapolis also has seen a variety of groups roll out grass-roots events aimed at propelling more women into leadership positions at all startups, especially those in high-growth industries, such as technology, that attract venture capital.

Kristen Cooper started Launch Ladies to eliminate "barriers to entry" for women.
"Frankly, it irritated me and made me mad," said Gregory Deason, Purdue Foundry's executive director, about statistics he heard at a conference on the dearth of female entrepreneurial leaders juxtaposed with how well they perform.
"We decided that we were going to make this a priority at the Purdue Foundry," he said.
From 2011 to 2013, about 15 percent of venture-funded businesses had a woman on their executive teams, according to a 2014 report by professors at Babson College's Center for Women's Entrepreneurial Leadership. Of the more than 6,500 venture-backed startups tracked, only 2.7 percent had a female CEO.
Researchers noted that investments in companies with women on the management team are clustered on the coasts.

Deason
"I don't know why male venture capitalists in the Midwest tend to overlook or dismiss women-founded startups, but they do," said Maggie Musgrave, an associate at the INnovate Indiana Fund, which offers seed funding to startups affiliated with Indiana University.
"That may be because we have fewer women venture capitalists in the industry or that may be because women don't feel comfortable pitching to male venture capitalists," Musgrave said.

Musgrave
The women-led technology startups that do land venture funding tend to perform better, research suggests. On average, they achieve 35 percent higher returns on investment than male-led companies, and generate 12 percent higher revenue, according to a widely cited 2013 Kauffman Foundation presentation titled, "Women in Technology: Evolving, Ready to Save the World."
San Francisco-based Illuminate Ventures said in a 2010 white paper that venture-backed companies run by women are more efficient, too, achieving "comparable early-year revenues, using an average of one-third less committed capital."
"Equality and diversity are not just ethically the right thing to do—they're good for business," said Kristen Cooper, founder of Launch Ladies, a social group of men and women that aims to advance female entrepreneurship.
Moving the needle
Cooper said she started Launch Ladies last year after meeting women at Launch Fishers, a co-working space in Fishers.
They were all involved in startups, and Cooper decided it was better to converse and trade advice over monthly lunch meetings than in impromptu rest-room meetings.
Cooper said she soon discovered that nearly all the women were in support roles at startups, but none of them actually led startups—even though they had ideas. So this July, she launched the biweekly Startup Study Hall, which brings in executive mentors. The goal is to not only talk about business ideas, Cooper said, but also move them forward.
"There are so many barriers to entry for women and minorities, and I wanted to do something to eliminate some of those barriers."
Dreamopolis is another group spawned in recent years that targets those underrepresented in startups, including women. It has an event called Pitch Feast, through which patrons pay a small fee to eat, listen to multiple business pitches, then vote on the best one. Winners get to keep the proceeds for their businesses.

Williams
Dreampolis CEO Kendrea Williams said the U.S. Small Business Administration has tapped Pitch Feast to nominate a business for its national InnovateHER competition. So the winner of the Nov. 16 Pitch Feast competition could head to Washington, D.C., in the coming months to compete in the inaugural event.
The WomenIN program at Purdue Foundry is expected to launch in January. The Foundry offers a variety of free business resources and counsel, but they're aimed at Purdue University professors and students looking to commercialize an idea.
Juliana Casavan, who leads the program, said these resources will now be available to any woman in Indiana, either in-person or via the Web. Resources include LaunchBox—a six-week program that helps evaluate value propositions.
"We knew that it wasn't just an 'us' thing, but an 'everybody' thing, and that there were plenty of areas that needed to be changed," Casavan said of the challenges female entrepreneurs face. "But we really wanted to pinpoint what change we could actually effect."
Root causes
Observers said reasons for the gender gap at venture-funded firms are varied, but partly stem from the scarcity of women working in venture capital. Babson researchers found that firms with female partners are twice as likely to invest in companies with women in management, but only 6 percent of partners were female in 2013.
Karen Griffith Gryga, chief investment officer at Philadelphia-based venture firm Dreamit, gave the conference speech that angered and inspired Deason to start the Foundry's WomenIN program.
In an interview, she said personality tendencies may hinder women.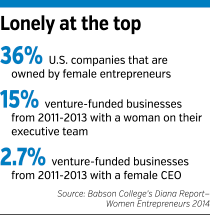 "Women tend to want to be 120 percent prepared," Gryga said, "but the fact of the matter is that, in a startup environment where you're resource-constrained—we call it the 60 percent rule—you've got to go for it when you're 60 percent there."
Gryga said women's strengths include empathy and communication skills. Overall, she said, they have different ways of looking at challenges, which may explain why diverse teams perform better.
The Babson researchers said various studies have recommended that women be proactive in raising money, including learning the language of finance and learning to "pitch more like men."
But the researchers added: "Based on our research, it is increasingly apparent that many women entrepreneurs have followed these prescriptions, yet they have not been able to achieve proportionate increases in early-stage growth capital."

Friedland
Elizabeth Friedland, who directs communications at the IT consulting firm Appirio, said startup executives need to start acknowledging subconscious biases, avoid creating frat-house environments, and think differently about hiring for culture.
"You hear a lot of tech companies saying, 'We want to hire a good cultural fit,' and that cultural fit often reinforces biases that are in the company," Friedland said. "So if it's a young company with a lot of guys, they wouldn't think to hire an older African-American woman."
Deason, the Purdue Foundry director, said it's good to have women-focused groups striving for solutions, but they should avoid isolating men, who need to hear them.
"I believe for us to effect change here, two things are critical," he said. "One is, we need to have women leading this effort, and secondly, we have to do everything we can to ensure that men are welcome and invited into this discussion."•
Please enable JavaScript to view this content.