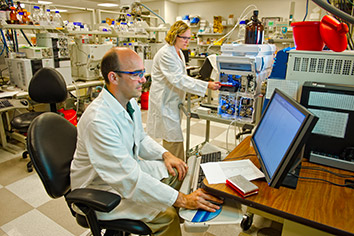 Eli Lilly and Co. beat Wall Street's expectations with its third-quarter profit, prompting the drugmaker to raise its full-year forecast by as much as 20 cents per share.
Indianapolis-based Lilly earned $800 million in the three months ended Sept. 30, the company reported Thursday morning. That was up 60 percent from the same quarter a year ago.
Excluding special charges this year and last, Lilly would have earned $950 million in the third-quarter, or 89 cents per share, up by 22 percent from the same period a year ago.
On that basis, analysts were expecting earnings of 76 cents per share, according to a survey by Thomson Reuters.
Lilly was able to boost profit by reducing its research, marketing and administrative spending.
That performance led Lilly to raise its full-year profit forecast to a range of $3.40 to $3.45 share, excluding special charges. In July, Lilly issued a full-year profit forecast ranging from $3.20 to $3.30 per share.
"We are pleased with our strong third-quarter results, which reflect the ongoing actions we are taking to grow revenue and increase productivity while we are replenishing and advancing our pipeline with an array of new, innovative therapies," Lilly CEO John Lechleiter said in a prepared statement.
Lilly's revenue moved up 2 percent to $4.96 billion, helped by the company's acquisition of Novartis Animal Health, as well as higher sales of new products such as the cancer drug Cyramza and the diabetes drug Trulicity.
Analysts, however, were expecting a bit more—about $4.99 billion in revenue, according to the Thomson Reuters survey.
Lilly's stock closed Wednesday at $77.01 per share. It has fallen more than 14 percent since Sept. 17, in part because of the company's Oct. 11 announcement that it halted testing an a highly touted heart drug. Lilly's shares are still up 11.6 percent so far this year.
Please enable JavaScript to view this content.