Chuck and Mary Williams love it when passersby ask them how long it took to restore their Victorian-style Old Northside home. Mostly because, unlike the century-old domiciles that surround it, their place is brand new. And it's just what the couple wanted: a stately home in a historic downtown neighborhood, but with all the modern amenities.

"We got everything, character-wise, without having to deal with a dirt-floored basement or a monster boiler," said Chuck, market manager for Radio One. "We wanted Victorian, but we didn't want it to be Victorian on the inside."

Instead, they got a 3,900-square-foot, two-story (with basement) abode nestled on Broadway Street in the midst of a clutch of far older, immaculately restored 19th- and early-20th-century houses.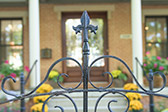 Adding a wrought-iron fence and leaded glass helped the house to blend in. (IBJ photo/Eric Learned)
Their labor of love began in the mid-2000s, when the Williamses, who spent two decades working in Chicago and raising a family in its suburbs, decided to return to their hometown of Indianapolis. They wanted to live downtown, and after months of searching, located a promising vacant lot for their dream home.

Construction began in 2006 and was completed in December 2008. The idea was to create a house whose exterior synced with the rest of the neighborhood, but whose interior boasted all the latest conveniences, including a modern, open floor plan.

"We wanted plenty of space without a lot of interior walls," Mary said.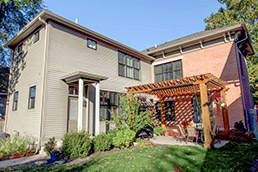 A deck and pergola in the back is accessible from both the open-concept dining and living space and the separate office. (IBJ photo/Eric Learned)
Building from scratch meant they didn't have to contend with an outdated design. However, they did have to make a lot of decisions, from the flooring (cherry-scraped hardwood) to the color of the exterior bricks. After much debate, they selected a unique shade of orange terra cotta. But when they started digging the basement, they found bricks from the lot's previous home, demolished half a century ago.

"I picked up a brick from the foundation, and it was the exact same color as the ones we selected," Mary said. "I still get goosebumps when I think of it."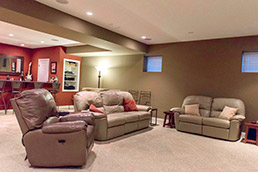 Chuck Williams has collected signed guitars during his career in the radio industry. Many are showcased in the home's basement, which also features a bar. (IBJ photo/Eric Learned)
The house features a stately front porch where the couple commiserates with neighbors during warm months. This Halloween, if past years are any gauge, it will host something like 300 trick-or-treaters. Its leaded glass double doors open onto a combination living area, dining room and kitchen, complete with custom cabinets and a large, marble-topped island. The couple says the food-prep area is the social center of the house.

"We built a bar downstairs, but it doesn't get used because everybody goes straight to the counter in the kitchen," Chuck said.

Windows fill every available wall, letting in a very un-Victorian amount of light. A set of double doors links the dining area to the backyard patio, essentially making the outside space part of the first floor.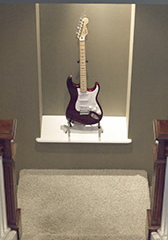 Some of the guitars have been signed by Paul McCartney (above), Don Henley ... (IBJ photo/Eric Learned)
"We set it up so it would flow when we have parties," Mary said.

A second set of double doors in the first floor's study also connects to the patio, expanding the smallish space. When weather permits, Chuck leaves them open when he uses the room.

"This makes working at the desk a little more livable," he said.

The basement boasts a media room, workout space and the aforementioned wet bar, along with a selection of signed guitars Chuck picked up during his decades in the radio industry. Instruments signed by everyone from Stevie Nicks to Paul McCartney are on display.

The second floor, reached via a custom wood staircase, contains the home's four bedrooms. The Williamses' master suite includes a wall of windows that lets in enormous amounts of light.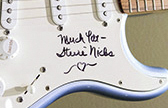 ... and Stevie Nicks. (IBJ photo/Eric Learned)
"Needless to say, we're not late sleepers," Mary said.

The couple says they're happy with both their home and their neighborhood.

"What we like about the Old Northside is that we have great neighbors and great friends," Mary said. "We use our front porch all the time—more than our back porch."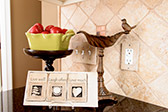 The bedroom, living area and kitchen are decorated with traditional furnishings and more whimsical touches. (IBJ photo/Eric Learned)
They also take a great deal of satisfaction in the fact that it's very, very hard for most people to distinguish their new home from the block's older domiciles. One feature that greatly helps to maintain that 19th-century cachet is a 146-year-old iron fence the couple discovered languishing in a barn on the Ohio border. They hauled it back to Indy, had it sandblasted, put on an oven-baked exterior coating, and installed it in their front yard.

"That's another reason people think the house is so old," Chuck said.

There is, however, one dead giveaway. Each home on the block features a stone marker emblazoned with the date it was built. The Williamses' says 2008.•