Thomas Sisson had worked about a year with Indiana's Vocational Rehabilitation Services to find a job when discouragement sank in.
In all, it had been five years since he'd had regular employment—ever since doctors discovered a tumor in Sisson's brain. He had surgery to remove it, but he walks with a cane now and can't stand for long periods or do much physical labor.
"I was starting to wonder if I'd ever get a job," Sisson said. "And I wasn't the only one."
But then Sisson's job coach at Rockville-based Child-Adult Resource Services Inc. discovered a new database that matches both individuals with disabilities and veterans looking for work with open positions at companies seeking to hire.
The Workforce Accelerator, launched earlier this year by local not-for-profit Tangram, is similar to a dating website linking compatible people.
Job seekers create profiles and answer questions about their preferences, experience and abilities. Businesses post job openings by answering questions about the essential functions and requirements of the position. An algorithm then compares the candidates with the openings.

Bernhardt
"I don't think there's anything else out there like this," said Kathy Bernhardt, managing director at Tangram, which helps disabled individuals lead independent lives. "This is not a job board."
When a candidate and business have an 80 percent or higher match, information about the position is either emailed to the individual or the business can contact the prospective employee directly.
Sisson, 48, was skeptical at first. He had used other job searching websites to no avail. But he decided that, "if this can get me in the door, I'm fine with it."
Then he had success. Citizens Energy Group and Sisson matched through the database, and Sisson has been working part time in the customer call center for almost two months now.
"It's all about independence—paying my own bills, paying my own way," Sisson said. "Not having to hear, 'When are you going to find a job?'"
Tangram doesn't have statistics on the number of job matches so far. But about two dozen businesses, including an unnamed national retailer, have created profiles on the database. More than 500 individuals are signed up. The goal is to have 3,000 job candidates using the database within three or four months.
The not-for-profit has invested more than $200,000 in the program using Indianapolis-based software company Connect Think.
"We believe it's a game-changer," Bernhardt said.

 Dodson
Kim Dodson, executive director of The Arc of Indiana, said the Workforce Accelerator is a way for businesses to explore hiring disabled individuals.
"This is just another option that shows them the talents and skills people with disabilities have," Dodson said. "I honestly think it will be really successful."
Not-for-profit officials who have experience trying to link businesses and disabled individuals stress that any program needs to be easy to use to initially hook companies.
But after a business has experience hiring employees with disabilities, experts say, the results speak loudly.
"People with disabilities—they have less tardiness, they have less missing of days, they have higher productivity," Dodson said. "I think businesses are saying, 'OK. We need to target that pool.' It just becomes that natural business model rather than good charity."
Sisson agreed that disabled individuals are often overlooked.
"We're an untapped resource," he said. "Reasonable accommodation is not a dirty word. Companies need to do this."
Until Jan. 1, businesses can post up to five job openings in the Workforce Accelerator for $250. After that, prices increase to $350 per job posting for the first 20. Rates decrease as the number of postings increase. The money is used to cover the program's expenses.
"We felt it was only appropriate that we charge for this," Tangram Marketing Manager Lindsey White said, but "the database isn't for us to make money."
Businesses answer 59 questions about the open positions and can weight the importance of each factor. Job descriptions and company statements can also be included.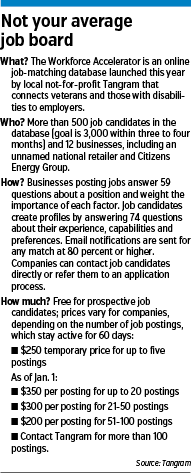 Bernhardt said she expects the program to be especially useful for federal contractors, which are required to show proof of recruiting employees with disabilities.
"We're hoping this helps businesses look at disabilities in a whole other way," she said.
On the flip side, the database is free for individuals with disabilities and for U.S. military veterans.
Candidates answer 74 questions about their experience and abilities, including queries about how long they can stand; whether they have reliable transportation; and whether they can read, write and hear. They can also upload resumes.
Bernhardt said the program is a good screening tool that allows businesses to be matched only with those who can perform essential job duties but might need minor accommodations.
Sisson works about 28 hours per week in Citizens' call center at its headquarters on Meridian Street, which allows him to sit at a desk and avoid heavy lifting.
He said he had concerns that other employees would not react well to his presence.
"I think when you walk with a cane, people treat you differently," Sisson said. "People don't understand you have limitations or they just assume you're helpless."
But Sisson said he has felt welcomed so far.
Tangram is planning to start officially tracking matches and other data.
"In the next six months, we'll be able to have some really good figures with how this is working," Bernhardt said.
Until then, the organization is relying on feedback from the businesses currently using the program.
Bernhardt said Citizens matched with three candidates for its postings and has hired from those matches.
The unnamed national retailer has had more success. Bernhardt said the company had five or six matches for positions at a North Carolina call center and three people were hired.
"We know we're not going to have 100 percent," Bernhardt said.•
Please enable JavaScript to view this content.