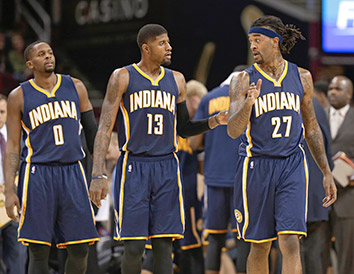 The Indiana Pacers season—set to tip off Oct. 28—already looks like a winning campaign.
It's not the addition of guard Monta Ellis or the focus on an up-tempo offense. Those things might take the Pacers back to the NBA playoffs next spring. But it's the financial ledger that looks good right now.
Sales of season tickets, merchandise and sponsorships are all up. Attendance is expected to match—or even exceed—the 2013-2014 season when the blue and gold made it to the Eastern Conference finals. And the stadium deal the Pacers struck with the city's Capital Improvement Board last year has freed the franchise to make investments it hopes will pay dividends long term.
The boost in sales comes despite a 2014-2015 season that left the Pacers outside looking into the playoffs for the first time since 2010.
The team finished ninth in the Eastern Conference and fourth in the Central Division after all-star Paul George missed nearly the entire season with a serious leg injury.

Taylor
Now, George is back, and Pacers executives have sought to surround him with a new cast. The result is anticipation among fans.
"There's curiosity, and I think that's pushing sales," said Todd Taylor, the team's sales boss.
Season-ticket sales are up 5 percent, merchandise sales are up 8 percent, and sponsorship sales are up 15 percent.
Season-ticket renewal is at 96 percent, which ranks in the NBA's top 10.
With a flurry of single-game ticket sales on Oct. 20—the first day they were available—Taylor is optimistic attendance can exceed 2013-2014's average of 17,501. Last year—in the wake of George's injury and losing Lance Stephenson to free agency—attendance fell to 16,864 after three consecutive years of gains.
This offseason, the team announced it would build a training and medical facility, in part to attract free agents. It also bought a developmental team. Those moves have some wondering why the Pacers needed a city subsidy to run Bankers Life Fieldhouse.
Big changes
The team roster has seen a major reshuffling.
Gone are starters David West, who signed a free-agent deal with San Antonio, and Roy Hibbert, who was traded to the Los Angeles Lakers. President of Basketball Operations Larry Bird and Coach Frank Vogel are promising the team will play an up-tempo game.
That promise, along with draftees Myles Turner and Joe "Joey Buckets" Young, have fans excited, Taylor said. Both rookies will be featured in ad campaigns and have already become popular at community appearances.
The return of a healthy George and the addition of high-scoring Ellis also are fueling ticket sales, Taylor added.
"What people are most excited about—as crazy as it sounds—is the uncertainty," Taylor said. "We've gone from a hard-nosed defensive team that holds opponents to 40 points in a half to having a team that could put up 120 points a night."
Two years ago, the lower bowl of Bankers Life Fieldhouse was almost sold out via season-ticket sales. Taylor said of the upcoming season: "We're getting there."
New sponsors are also coming on board.
The team has added FanDuel, Teachers Credit Union, Room Place and Arby's to its stable.
And the Pacers are finalizing plans to replace the fieldhouse's Area 55 fan section that was connected to Hibbert, who wore No. 55. Taylor said that section—which will be announced soon—will have a sponsor component.
Favorable trend
The team's finances have mostly been on an upward trajectory since Taylor came to the Pacers from the Texas Rangers front office in 2011. Attendance has since increased by about 4,000 per game and sponsorship is up a strong double-digit percentage.
A 10-year NBA collective bargaining agreement signed in 2011 with improved terms for team owners and a revenue-sharing plan that is much more favorable to small-market teams gave the Pacers a much-needed financial boost.
That deal was phased in and took full effect in the 2013-2014 season—raising the amount of league-wide annual shared revenue from $60 million under the old formula to $200 million.
Though Pacers officials declined to comment on revenue sharing, league sources said the team's cut increased from $5 million to at least $16 million. Some sources said the Pacers' take could top out at $20 million.
A new NBA national television package—worth nearly three times the current one at $2.7 billion annually—will start in 2016-2017 and boost the team's fortunes even higher.
But that influx of league-wide cash also pushes up the player salary cap. That can be a strain on small-market teams, which generally earn less through ticket sales and local media deals than do their big-market brethren.
Still, the Pacers' revenue jumped from $98 million in 2013 to $139 million in 2015, while operating income has grown from $10.9 million to $25 million in that period, according to estimates by Forbes Magazine. Before 2013, the Pacers operated at a loss for six consecutive years, according to Forbes.
"I'd be shocked, flabbergasted, if the Pacers aren't making money now," said Richard Sheehan, a University of Notre Dame economist and author of several sports-business books.
But Mark Rosentraub, a former dean at IUPUI and now a dean at the University of Michigan, isn't so sure.
"The market is still considered a stressed market simply due to the size of [it] and the amount of product in it," said Rosentraub, who has also written several sports-business books, including one about Indianapolis.
The team's own financial gains, along with its agreement with the city's Capital Improvement Board, have allowed it to invest in its future, sports economists said.
The CIB deal—completed in April 2014—calls for the city to pay the franchise $160 million over 10 years to operate and maintain Bankers Life Fieldhouse and for capital projects at the venue.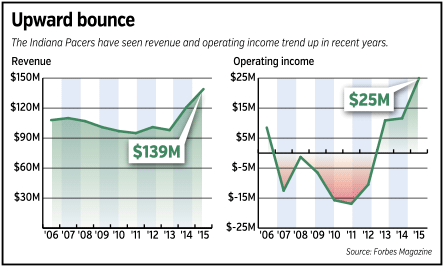 In August, the Pacers announced plans to build a five-story, 130,000-square-foot training venue on city-owned land across Delaware Street from the fieldhouse. Though the Pacers didn't reveal the project's cost, real estate experts pegged it at $40 million to $50 million.
The venue—which will be called the St. Vincent Center—will include a facility on the fifth floor with primary care, cardiovascular and sports-performance services for the general public. Sources close to the deal said money from St. Vincent will cover a chunk of construction costs.
Then in September, the Pacers bought the Fort Wayne Mad Ants, an NBA Developmental League team. Terms were not disclosed, but sources familiar with team valuations said the acquisition likely cost the Pacers $4 million to $5 million.
No 'buyer's remorse'
Rosentraub said the recent expenditures raise some interesting questions, given the deal the team has with the city.
"It's a plausible argument to say the Pacers needed the city money so they could do the things they've done and invest in the future," Rosentraub said. "If they didn't do these things, they couldn't compete.
"Still, to say you want to make sure the Pacers aren't becoming excessively profitable, that's a reasonable audit issue for the public sector. That's not an unreasonable question."
Pacers spokesman Bill Benner emphasized that "the team does not receive any funding from the CIB. The funding … is directed to upgrades, operation and maintenance of the facility."

Earl Goode
Earl Goode, who replaced Ann Lathrop as CIB chairman in February, said he hasn't heard "any buyer's remorse" from CIB members about the $160 million deal with the Pacers.
"It's not like the Pacers are on the leading edge with this new training center or developmental team," Goode said. "Other teams have done this, so they're joining the party mid-stream."
He argued that, the better the Pacers do, the more tax money they bring in through ticket and other sales.

Thompson
"That [tax] money feeds the CIB and the entire city," Goode said.
CIB member Milt Thompson said the Pacers investments and the CIB subsidy are two different issues.
"What the Pacers are doing is all about attracting and retaining players and player development," Thompson said. "We're looking at capital improvements and maintaining a building we own. It's our responsibility to take care of our property. It's no different than taking care of your house if you rent it out."•
 
Please enable JavaScript to view this content.