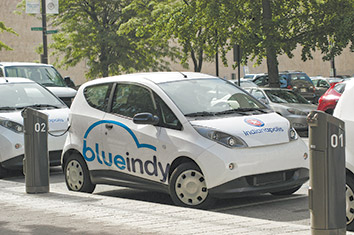 Marion County Auditor Julie Voorhies sued the city of Indianapolis on Monday over its contract with BlueIndy, saying the city illegally paid $6 million to the electric car-sharing service.
The complaint over the contentious deal—which was filed in the Marion County Circuit Court and asks for a temporary ban on any future construction on city-owned land—comes a week before the city's elections. Voorhies is a Democrat; the BlueIndy deal was negotiated by aides to Republican Mayor Greg Ballard.
Voorhies' office said she "had no choice but to file suit after repeated efforts to seek redress from the city of Indianapolis were unsuccessful."
But Ballard's spokeswoman, Jen Pittman, called the lawsuit "nothing more than a stunt orchestrated to create headlines."
"Taxpayers deserve better and so do the union workers whose jobs the auditor is threatening," Pittman said. "Processing payments to vendors, ensuring payroll accuracy, and withholding the correct amount from employees' paychecks are all legitimate, important functions of the auditor's office, and all have suffered while the auditor has focused instead on playing political games."
The auditor's office has asked a judge to rule that the city and BlueIndy, which are both named in the suit along with Regions Financial Corp., acted illegally when they executed the contract.
In the suit, Voorhies also requests a return of a $6 million wire transfer from the city to Regions Financial Corp. for deposit in a BlueIndy escrow account. The auditor said the city didn't follow the correct process for paying contractors since there was no purchase order completed for the project.
"Not only did the city fail to publicly bid the $6 million BlueIndy construction project, but the city also failed to obtain the necessary budget appropriations from the City-County Council and circumvented the approval of the Marion County auditor in issuing payment to BlueIndy," according to a press release from the auditor's office.
The contract with BlueIndy, which provides point-to-point car-sharing between popular downtown and neighborhood destinations, has been controversial since it was announced last year. Some members of the Democrat-controlled City-County Council this summer even threatened to tow the company's cars. The service officially launched Sept. 2. 
Please enable JavaScript to view this content.