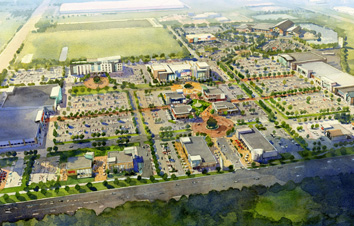 Indianapolis-based developer Gershman Partners is planning a mammoth retail project in Greenwood that it says would cost $90 million and include 700,000 square feet of space, putting it on par with the city's major shopping centers.
The Greenwood Town Center is slated for the southeast quadrant of the interchange of Interstate 65 and County Line Road. Construction is expected to begin in late 2016, with completion targeted for late 2017, the firm announced Wednesday morning.
Gershman has developed several major retail projects in central Indiana, including Hamilton Town Center in Noblesville and The Bridges in Carmel. The latter project just added a 120,000-square-foot Market District store.
The Town Center project would include shopping, dining and entertainment tenants. Leasing already is under way, according to Gershman.
"With our proven track record of developments, we have the vision, expertise, and skill set to create this new retail and entertainment center," said Eric Gershman, principal of Gershman Partners, in a prepared release. "The Greenwood Town Center will become a first-class destination for both the south side of Indianapolis and the surrounding region."
Gershman touted favorable demographics for the project. Johnson County is the third-fastest-growing county in the state, putting the center within a 20-minute drive of 385,000 people and 150,000 households. More than 90,000 vehicles will be able to see the mall daily as they pass by on I-65, the developer said.
The project will benefit from several other major retailers at the interchange, including a Kroger Marketplace, a Super Walmart and a proposed Costco.
The interchange was recently upgraded as part of $36 million Major Moves project that improved I-65 from Southport Road to Main Street in Greenwood.
"The addition of Greenwood Town Center to this area will spur additional growth in an already strong market," Greenwood Mayor Mark Myers said in a written statement. "Our focus on building infrastructure has helped create tremendous opportunities not only for our residents, but our neighbors as well."
Please enable JavaScript to view this content.