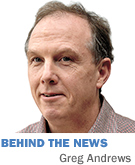 There are plenty of reasons to be nervous about the fate of Indianapolis-based Dow AgroSciences now that the CEO of parent company Dow Chemical Co. has essentially thrown the business into play.
"Given the potential synergies in a newly consolidated agricultural market, an attractive opportunity to release value may be upon us," CEO Andrew Liveris said during an Oct. 22 conference call with analysts.
Liveris was careful to emphasize that a range of possibilities are on the table, including retaining the business as is or spinning it off in an initial public offering.
But the market dynamics suggest a sale, given that Dow AgroSciences is one of the smaller players among the six firms that dominate the burgeoning global market for agricultural chemicals and genetically modified crops, according to many of the analysts who issued reports after Liveris' call.
"We view this as a business with excellent potential and insufficient scale that would perform far better in a consolidated position," Bernstein analyst Jonas Oxgaard said in his report.
Oxgaard's comment might lead you to believe Dow Agro is a small fry, but it only looks that way stacked up against its top rivals, which include St. Louis-based Monsanto and Delaware-based DuPont, owner of the Pioneer seed brand.
In fact, Dow Agro is a colossus, with more than $7 billion in annual revenue. It spends more than $500 million a year on research and development and employs 9,000 worldwide, including a highly paid workforce of 1,500 on the northwest side.
A buyer might pay $15 billion to $20 billion, driven partly by the ability to reduce R&D spending, "much of which is likely duplicative with peers," Morgan Stanley analysts Vincent Andrews and Matthew Andrejkovics said in a report.
Talk of synergies and consolidation may warm the hearts of investors, who are eager for Midland, Michigan-based Dow Chemical to boost returns, but they cast uncertainty over some of central Indiana's best scientific jobs.
Dow Agro has enjoyed a spectacular run since its founding in 1989 by Eli Lilly and Co. and Dow. Dow in 1997 bought out Lilly, and a few years later it broadened its focus beyond "crop protection"—herbicides, fungicides and insecticides—into genetically modified crops.
That field promises enormous growth, as the swelling global population and declining availability of arable land create the need for higher crop yields. Last year, company officials told IBJ they had 13 products set to reach market by 2018 and almost 30 more slated for rollout later.
The company said revenue might double over the next decade.
"The pipeline has been better than ever in our history," William Kleschick, global leader of discovery research, said at the time.
Results lately across the entire industry have been disappointing, driven down by declining demand in Latin America and a stronger U.S. dollar. Dow Agro's sales in the latest quarter were $1.2 billion, down from $1.4 billion in the same period a year earlier.
Liveris said Dow hasn't lost enthusiasm for the business, which he said "has the most envied technology pipeline in chemistry and in traits." The reason to explore options, he said, is to capitalize on potential synergies—a term that usually means cost savings.
The ag chemicals industry has been in flux since this spring, when Monsanto made a $45 billion bid for Swiss agrochemicals company Syngenta AG. Though Syngenta rebuffed the offer, analysts expect more deal-making .
"Literally since Monsanto-Syngenta conversations began in May, you can imagine every player talks to everyone," Liveris said. "So, yes, we are talking to everyone, [but] there is no imminent deal."
DuPont's interim CEO, Ed Breen, echoed those remarks in a separate conference call with analysts a few days later, saying "I'm personally talking to CEOs of some of the other companies."
He added: "Consolidation should happen. Clearly, we'll have our nose in the tent to see if there is anything that makes great sense for our shareholders."
All the chatter might amount to nothing, of course. After all, Dow over the last six years has talked on and off about divesting Dow Agro, which accounted for 13 percent of its sales in 2014. Each time, the company retained full ownership.
But this time might be different. The first step in deal-making is sliding a foot in the door. Liveris has made clear his already is wide open.•
Please enable JavaScript to view this content.