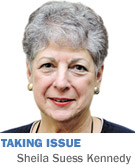 For those of us who spend much of our time in the world of policy—who debate the larger social consequences of this or that political decision—individual efforts to improve things, to make the world a better place, can seem irrelevant or even quixotic.

The sudden, unexpected death of a good friend has reminded me that individual efforts matter—sometimes more than we think and often more than we know.

Mark St. John was a lobbyist, but not the kind who makes large contributions or "schmoozes" with power brokers. Mark worked for organizations representing the interests of more marginalized Hoosiers: LGBT folks, environmental activists, working-class Hoosiers, the disabled.

My husband and I had breakfast with Mark nearly every weekday morning for the past 22 years. We discussed everything from the rebirth of downtown, to the effects of tax policy, to the rumors currently circulating at the Statehouse, to the electoral prospects of candidates for offices both local and national.

Mark's favorite line—generally in response to people who noted the predictability of finding the three of us at the same time and breakfast table—was that we'd discussed and solved all the world's problems, but we'd forgotten to take notes.

Mark was only 62 (at my age and stage, that seems incredibly young) and had just returned from New York from a meeting of a nonprofit whose board he chaired. He hadn't been ill, so his death was a huge shock.

The outpouring in the wake of his death confirmed the lesson that we can all make a difference.

Mark's Facebook page erupted, and in the process, disclosed connections and relationships of which even his closest friends were only dimly aware. His friendships and his advocacy stretched from human services to the African-American community to the LGBT community to groups working in housing, community development, and so many more.

The lesson—the "takeaway"—from these broad networks is not that they existed, but how and why one man with extremely limited financial resources was so effective in so many venues.

I'd sum that lesson up as follows: Mark never met an evil person.

He was anything but naïve and was certainly capable of noting the personal or intellectual limitations of people with whom he interacted, but when it came to motives, he always extended the benefit of the doubt even to those working against causes he supported.

He always looked for common ground. Perhaps we can't agree about ABC, but there's room to discuss XYZ.

He was well aware of the sorts of intrigue and power struggles that characterize operations of the Statehouse and General Assembly, and he especially enjoyed figuring out what games were being played. But unlike so many people who get caught up in political gamesmanship, he never lost his focus on the goal, and that goal was improving the lives of people who live in Indiana and ensuring that government plays fair with everyone: gay, black, poor, disabled.

I thought I knew Mark well. As a single man, he was an unofficial member of our extended family, a fixture at Thanksgiving and Christmas dinners, a traveling companion and a routine participant in family celebrations. But in the days following his death, even those of us who were close to him learned about efforts and relationships about which we'd had no inkling.

He's gone too soon, but the message he left is profound: One person can make one hell of a difference.•

__________

Kennedy is a professor of law and public policy at the School of Public and Environmental Affairs at IUPUI. She blogs regularly at www.sheilakennedy.net. She can be reached at skennedy@ibj.com. Send comments on this column to ibjedit@ibj.com.