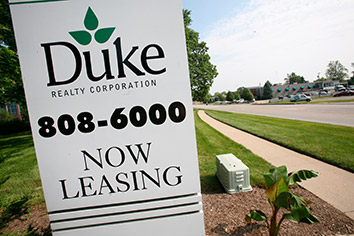 Duke Realty Corp. announced Tuesday morning that Dennis D. Oklak will step down as the company's CEO, effective Dec. 31.
The Indianapolis-based real estate investment trust has named Duke's chief operating officer, James B. Connor, 56, to succeed Oklak, 61, who will remain as the company's executive chairman of the board of directors.
Duke Realty spokeswoman Helen McCarthy said there is no specific reason for Oklak's decision to retire as CEO. The announcement from the company said the transition is the result of a thorough succession -planning process.
"I have enjoyed working with Denny and, through his guidance, Duke Realty has successfully transformed into one of the leading industrial REITs," said Bill Cavanaugh, chairman of Duke's corporate governance committee, in a written statement. "The board and I are grateful for his fine leadership and contributions to Duke Realty during his many years with the company."
Oklak has been with Duke Realty and its predecessors since 1986, and has been CEO and a director since 2004. He's served as board chairman since 2005.
Connor joined Duke in 1998 and was named COO in July 2013. He previously spent 17 years at Cushman & Wakefield in its industrial division. Connor earned a bachelor's degree in business administration and real estate finance from Western Illinois University.
Duke Realty owns 141 million square feet of industrial and medical office space in 22 major metropolitan areas across the United States.
Company shares rose more than 2 percent, to $21.14 each, in early-morning trading, before falling to $20.90, down 1.1 percent from Monday's closing price.
 
Please enable JavaScript to view this content.