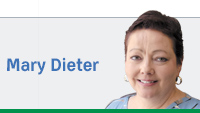 It's hard not to feel sorry for the many Republicans who care about their communities and country, not their neighbor's bedroom behavior; seek elected officials to represent constituents, not plutocrats; and recognize their good fortune and do not wish to deny others.
With the largest array of presidential candidates in modern history, GOP voters would seem to have an embarrassment of riches from which to choose. But this group is just an embarrassment, leaving reasonable folks with virtually no choice at all.
Each in his or her turn has sought to out-crazy Donald Trump, who heedlessly says anything to win votes from primary voters, who increasingly appear to be extremists who disdain women, the poor and the American melting pot and who value guns, the wealthy and fetuses (until birth).
Ben Carson has trumped Trump for front-runner status, apparently by making ever more reckless statements. To prove he's ready to be president of the Wild West, the former surgeon, who likens America to Nazi Germany and compares abortion and Obamacare to slavery, opined that, "I never saw a body with bullet holes that was more devastating than taking the right to arm ourselves away." This man of science rejects Darwin's theory of evolution as the work of the devil and the Big Bang theory as a "fairy tale."
Then there's Jeb(!) Bush, who wants to ignore Pope Francis' statements about global climate change because the pope isn't a scientist. Only Francis has a master's degree in chemistry. And it's not as if Bush respects scientists; he willfully ignores thousands of others who contend that climate change is real and man-made.
In some of the campaign's most racist remarks, Bush and Marco Rubio said they won't pander to racial minorities by offering them "free stuff." Bush, however, apparently has no problem offering free stuff to the richest Americans, who would benefit far more than the middle class from his tax plan because, "That's just the way it is."
Rubio, raising the bar on vile, claimed that the sale of fetal tissue for research creates "an incentive for people not just to look forward to having more abortions, but being able to sell that fetal tissue."
Carly Fiorina's rags-to-riches story—one of her many fabrications—conveniently leaves out that her father was dean of the Duke University law school. Bobby Jindal wants to end birthright citizenship, granted by the 14th Amendment to babies born in the United States or its territories, although he benefited from the right.
Ted Cruz wants to abolish the IRS and is willing to shut down the government, regardless of the effects on Americans. Rand Paul says the wealthiest 1 percent got that way by working harder than the rest of us; apparently the Koch brothers' father—from whom they inherited the seed money to create their fortunes—worked extra hard when he was building oil pipelines for Joseph Stalin. And Mike Huckabee? Virtually every word that emanates from his mouth is preposterous.
Some of the candidates have walked back their comments, but off-the-cuff words and good judgment matter, especially when the president is involved in delicate matters. So, yeah, one can easily feel for Republicans with common sense and common decency, who must feel like they're in the wilderness. But more to the point, is this group the best that one of our major political parties can offer? And if so, whither America?•
__________
Dieter, a writer and an editor, is the former Statehouse bureau chief for The Courier-Journal and press secretary for Gov. Frank O'Bannon. Send comments on this column to [email protected].
Please enable JavaScript to view this content.