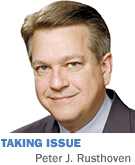 Indianapolis Mayor-elect Joe Hogsett hit the right note on election night. "We are one city," which must "come together … regardless of race or party or faith or station in life."
This will be less of a challenge here than elsewhere. Most Hoosier Democrats and Republicans avoid the bitter, nasty edge that poisons politics.
The issue-focused campaigns by Hogsett and GOP candidate Chuck Brewer also help. Small fireworks about Hogsett contributors were at sparkler level by today's standards.
Brewer, overmatched in funding and name-ID, displayed more substance and dignity than some presidential candidates. Hogsett ran as if he were in his transition, preparing for post-election challenges. That's easier when victory seems assured, but others in this position have taken the low road.
Hogsett also recognized that "in victory comes enormous responsibility," identifying the morning after his election the most important one. "The very first thing on day one will be convening law enforcement leadership at the federal, state and local levels so that we can talk meaningfully about tackling this increasing crime problem that the city has been experiencing."
That's the right focus. Government's first obligation is protecting citizen safety and security.
I believe Joe Hogsett understands this not just as a campaign issue, but as a core leadership priority. He's getting lots of advice on this from lots of folks. My two cents' worth is that one person worth listening to is FBI Director James Comey.
Comey speaks candidly about our nationwide urban crime epidemic. "Part of being clear-eyed about reality requires all of us to stare—and stare hard—at what is happening in this country this year." What's happening is this: "Far more people are being killed in America's cities this year than in many years."
Further, "far more people of color are being killed in America's cities this year. And it's not the cops doing the killing." Indeed, "the increase is almost entirely among young men of color, at crime scenes in bad neighborhoods where multiple guns are being recovered."
"What could be driving an increase in murder in some cities across all regions of the country, all at the same time?" Comey identifies a factor on which others stay silent. "Nobody says it on the record, nobody says it in public, but police and elected officials are quietly saying it to themselves."
Rhetorical questions are revealing. "In today's YouTube world, are officers reluctant to get out of their cars and do the work that controls violent crime? Are officers answering 911 calls but avoiding the informal contact that keeps bad guys from standing around, especially with guns?"
Police recount being "surrounded by young people with mobile-phone cameras held high, taunting them the moment they get out of their cars. They told me, 'We feel like we're under siege and we don't feel much like getting out of our cars.'"
Comey has zero tolerance for police brutality. But he has "a strong sense that some part of the explanation" for the urban crime surge "is a chill wind blowing through American law enforcement over the last year," which "is surely changing behavior."
I suspect Comey's correct, and that our mayor-elect knows this, too. He has a tough job ahead on crime. This Republican is one of many who respect him, and want to work with him toward the common goals that transcend partisan differences.•
__________
Rusthoven, an Indianapolis attorney and graduate of Harvard College and Harvard Law School, was associate counsel to President Reagan. Send comments on this column to [email protected]
Please enable JavaScript to view this content.