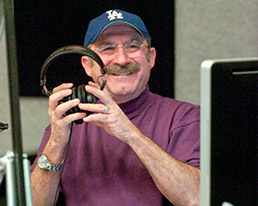 Bob Kevoian, part of the enormously popular "The Bob & Tom Show" on WFBQ-FM 94.7 since 1983, announced his retirement Thursday night.
The retirement will come at the end of the year, Q-95 reported on its website.
Kevoian announced the decision during his induction along with partner Tom Griswold into the National Radio Hall of Fame at the Museum of Broadcast Communications in Chicago.
"The Bob & Tom Show" airs locally during the morning drive (6 a.m. to 10:20 a.m.). The show went into national syndication in 1995. It has been a local ratings leader almost since its inception.  
The comedy program is carried on 130 stations nationwide, has won five Marconi Awards and generated more than 50 comedy albums over the years.
"I always thought you had to die or be retired for five years to be considered for any hall of fame," Kevoian said at the cermony, according to Q-95. "Thank God I'm not dead, but I am going to retire at the end of this year and walk away from the mic."
Kevoian turns 65 on Dec. 2.
Given the extensive archive of pre-recorded bits that are a staple on the show, it's likely that Kevoian will be heard long after his retirement.
"It was a huge thrill to be inducted into the National Radio Hall of Fame with my partner Bob," Griswold said in remarks on Q-95's website. "He will always be a part of the Bob & Tom Show, and his presence will continue to be felt as we broadcast the show for many years to come."
 
Please enable JavaScript to view this content.