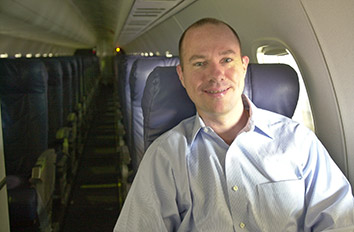 Indianapolis-based Republic Airways Holdings Inc., one of the largest players in the regional airline business, might have escaped a bankruptcy filing last month when its 2,100 pilots accepted a new three-year contract.
Republic executives call that agreement a cornerstone of their effort to rebuild an airline decimated by pilot shortages. But that doesn't mean the company's problems are over.
With that deal in hand, Republic is now telling its biggest customers: You need to step up. But can it get American, Delta, and United to lighten its flying load and help fund the $40-an-hour starting salary it now pays new pilot hires—the new top in the regional industry?
"Republic has serious challenges that we must still address and several quarters of recovery and rebuilding ahead of us," CEO Bryan Bedford said Thursday on a call with analysts, outlining a quarter in which pretax income plunged 73 percent, to $8 million, from a year earlier, aggravated by less flying.
The company, which has 240 jets and about 1,250 daily flights, is working to remove 50-seat Embraer jets and Bombardier Q400 turboprops from its fleet as airlines shift to larger, more efficient regional jets. Its shares closed down 11.7 percent, part of a 65 percent decline this year.
The new compensation course at Republic shows one of the critical issues regional carriers are now facing as they try to maneuver the tough mandate Congress imposed in 2013 requiring more flying hours before commercial pilots can take the controls. Lawmakers were driven to the new flight-hour rules mostly by the 2009 crash of a Colgan Air regional flight near Buffalo. That case revealed lapses in the pilots' training and rest before the flight, and shocked many with the low pay endemic in the regional industry.
Despite the higher pay, Republic will still struggle to fill its pilot ranks, Bedford said, given the U.S. rules on minimum flight hours for pilots and the hiring of regional pilots by American, Delta and United, as well as by cargo airlines. Pilots at the major carriers have a mandatory retirement age of 65; the legacy carriers are also not getting as many military aviators as they once did.
The "watershed event" of making peace with the pilots means the company can now attract greater numbers of aviators and begin arguing its financial case with its big customers, Bedford said. The company's prior contract with pilots expired in October 2007.
Yet amid all this restructuring of flying contracts, Republic executives clearly signaled that Chapter 11 (dubbed Plan B inside the company) remains an option if deals with the Big Three airlines (Plan A) can't be reached.
The negotiations won't be easy. One of Republic's customers, Delta, sued Republic on Oct. 5, accusing it of breach of contract for not fulfilling its flight schedule for Delta and costing the airline "millions in lost profits" it says it would have earned from the flights. Republic, which operates 71 regional jets for Delta Connection, called the allegations "unfounded and without merit" and says its contracts allow it to recover about one-third of the higher labor costs, and that it will ask some airlines to pay more than they are contractually obligated to pay.
The new three-year pilot contract at Republic that offers starting pay of $40 an hour—$17.05 more than the past level—will cost about $150 million over the full period, including bonuses of $1,000 to $11,000, depending on service time with the airline. In late 2016, Republic will pay a second bonus of $5,000 to $10,000 per pilot. The new contract includes more favorable work rules and faster paths for advancing, Republic said.
The new pay is "certainly a paradigm shift from the 23 bucks we used to be paying," Bedford said. The revamped salary structure is also designed to make a flying career more attractive for young people.
To do that—and to keep regional flying a part of U.S. air transport—big carriers are likely to pay more for the regional flying they contract. That would represent a radical change in a business that's always been about landing the lowest bidder.
Please enable JavaScript to view this content.