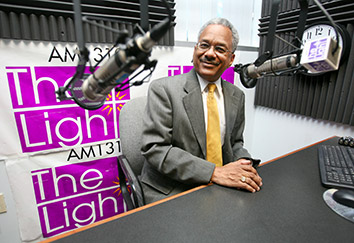 Longtime Indianapolis radio broadcaster Amos Brown has died, his family confirmed Saturday.
"It is with sadness and grief that the family announces the passing of beloved Hoosier and Hall of Fame Broadcaster Amos C. Brown, III," according to a statement on his radio station's website. "Mr. Brown collapsed on Friday, Nov. 6, at his family home in Chicago."
The death of Brown, 64, also an activist who specialized in reports advocating for minority communities and on behalf of public education, came as a shock to his listeners and to the Indianapolis media and political community. He recently celebrated 40 years as a broadcaster.
"With the passing of Amos Brown, Indiana broadcasting lost a legend and Indianapolis lost a champion," Indiana Gov. Mike Pence said in a written statement. "Like so many of his admirers, Karen and I were deeply saddened to learn of the passing of this gifted Hoosier broadcaster and passionate advocate for his community. For more than 40 years, Amos dedicated his life's work to amplifying the voice of the Indianapolis community. From his studio and in countless civic causes, Amos Brown worked each and every day to improve the lives of his listeners and better our capitol city."
Brown often had a no-nonsense demeanor in his approach to discussing difficult topics, frequently challenging his sources on-air. He also had a regular, aptly named column in the Indianapolis Recorder newspaper called "Just Tellin' It."
"The Indianapolis Recorder family is saddened to hear about the passing of longtime supporter and columnist Amos Brown," Recorder President Shannon Williams said in written remarks. "Amos was not only an intellectual giant, he was a champion for equality and justice."
Brown graduated from Northwestern University in 1972 and moved to Indianapolis in 1975 to join WTLC-AM as an advertising sales representative. He figured he'd stick around Indianapolis no more than two years.
But he soon began climbing the career ladder. He graduated to assistant station manager and then, in 1981, to station manager.
He changed course in 1994, becoming director of strategic research for station owner Hoosier Radio and TV, which was owned by Bill Shirk and Bill Mays. He kept the same job after Maryland-based Radio One purchased WTLC and other Indiana properties in 2000.
Brown began his on-air career in 1976, producing and hosting several TV and radio shows. In 1992, Brown created Indianapolis' first black-oriented radio talk show, "The Noon Show." From 1997 to 2005, he hosted "The Amos Brown Show," Indianapolis' only daytime TV talk show.
From 1995-1997, Brown created and hosted "Six Thirty PM," Indianapolis' first nightly TV magazine show in a decade.
His longevity and outspokenness made him a media icon in Indianapolis.
"Shocked and saddened by the death of Amos Brown," tweeted longtime Indianapolis Star political reporter Mary Beth Schneider. "He was always a good man to me."
Indianapolis Public Schools Superintendent Lewis Ferebee said he was "devastated" over the loss, despite the pair's frequent disagreements.
"He challenged me and all for excellence," Ferebee tweeted.
Abdul-Hakim Shabazz, who runs the IndyPolitics blog, tweeted simply: "My sparring partner … has died."
Funeral arrangements for Brown are pending.
More reaction to Brown's death can be found here.
 
Please enable JavaScript to view this content.