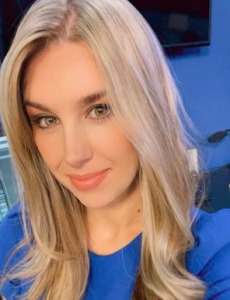 Fox59 has added a Greenwood native to its weather team.
Alyssa Andrews, a graduate of Center Grove High School and Indiana University, has returned to central Indiana as the newest meteorologist at WXIN-TV Channel 59 and sister station WTTV-TV Channel 4.
Andrews made her first local on-air appearance Saturday night and was given a busy schedule during her first week, filling in for Chief Meteorologist Brian Wilkes on daily newscasts at 4 p.m., 5 p.m., 6 p.m., 7 p.m., 10 p.m. and 11 p.m.
"I absolutely love forecasting at home, at the station I grew up watching," Andrews said on Facebook. "Dream come true."
Andrews most recently worked on the weather team in Lexington, Kentucky, at ABC affiliate WTVQ-TV Channel 36, which she joined in January 2019.
Before that, worked for three years at WTWO-TV in Terre Haute, covering news, sports and weather.
As an undergraduate at IU, Andrews worked as a sideline reporter for the Big Ten Network from 2012 to 2015, covering multiple sports.
Andrews was a trailblazer at IU as the first person to create her own major in social media journalism while also majoring in telecommunications. She also has a master's degree in meteorology from Mississippi State University.
Her new job isn't the first time she has worked at Fox59. She served as a sports intern in 2013 and 2014 for anchor Chris Hagen. She also interned for ESPN at WIBC-AM 1070 in Indianapolis in 2012 and 2013.
Please enable JavaScript to view this content.