A new 296,000-square-foot IKEA store shouldn't cause additional traffic headaches along Interstate 69 and 116th Street—even though that's one of central Indiana's most congested areas—because shoppers and commuters aren't typically on the road at the same time, officials said Tuesday.
The Swedish home furnishings giant will invest $40 million to build on 35 acres along USA Parkway in the Exit Five Corporate Park, just south of 116th Street. It will have a lot for 1,000 vehicles.
"I think this is a big win for the city of Fishers today," said Mayor Scott Fadness.
Social media lit up after the announcement, with IKEA fans cheering the chain's decision to locate in Indiana for the first time. But others complained about what they fear will be increased congestion. "Yeah, this won't be a traffic nightmare. Not at all," one tweet said.
But Fadness said increased traffic shouldn't actually be a problem because the peak shopping hours for IKEA customers are not during rush hour.
IKEA stores don't open until 10 a.m., which is after the typical morning commute, and the slowest hours are usually 4-6 p.m., he said. Fadness added that half of IKEA's business occurs during weekends.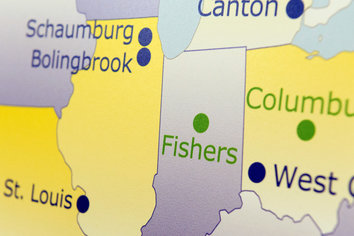 "With the daily commute we have as a bedroom community, it actually works out really, really well," Fadness said.
Still, the city is moving forward with road improvements in the area and expects to complete those projects by the time the store opens. Fadness said the infrastructure investment wasn't directly related to the possibility of an IKEA store.
"We knew this area was poised for growth, so we had kind of already planned these road projects," Fadness said.
The city has started working on a $6 million project that will add a new eastbound lane on 116th Street from I-69 to Cumberland Road and remove the traffic signal at USA Parkway. A new traffic signal will be installed at 116th Street and Exit Five Parkway with double left turn lanes from eastbound 116th Street onto Exit Five Parkway and at Oak Drive onto 116th Street westbound.
Oak Drive also will be widened and extended south to intersect with USA Parkway.
The Indiana Department of Transportation is also coordinating with Fishers and Hamilton County to construct a new exit at 106th Street on I-69. That project, which is expected to cost $34 million, would create a two-lane, oval-shaped roundabout on 106th Street over the interstate with ramps to and from both directions.
The new exit would provide another access route to the IKEA store.
"You've got two ways to get in and out—that's going to be a huge plus," Fishers City Council member John Weingardt said.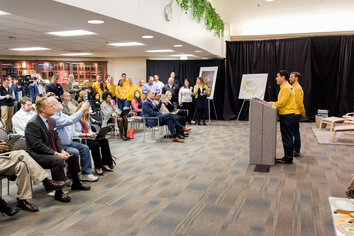 Joseph Roth, expansion public affairs representative for IKEA, said representatives from IKEA have been scouting locations in the Indianapolis area for 10 years but narrowed the search to Fishers only about two years ago. He said the company seeks highly visible land for sale and potential sites undergo several levels of review before being approved and pursued.
Fadness said IKEA officials approached the city about six months ago. The city is considering some financial incentives, such as a waiver of impact fees, but Fadness said a tax abatement is not part of the agreement.
The company hopes to finalize the purchase of the land by summer and break ground in fall 2016, Roth said. The store is expected to open in fall 2017. The project will create jobs for more than 500 people during construction and 250 people once the store opens.
Roth said average wages have not been determined yet because the store won't be opening for two years, but employees usually earn salaries that are higher than the minimum wage. IKEA also offers full benefits to part-time employees.
The new location will feature 10,000 items exclusively designed for IKEA and 50 different room settings to show them off.
The Fishers IKEA will be the first in Indiana. The company has 41 stores in the United States, with the nearest locations in West Chester, Ohio; Bolingbrook and Schaumburg, Illinois; Canton, Michigan; and St. Louis.
Store sizes typically range between 250,000 and 350,000, according to Roth. The West Chester store near Cincinnati—the closest drive for most Indianapolis residents—is on the larger end of the range with 344,000 square feet on a 28-acre site and about 1,700 parking spaces.
IKEA became the world's largest furniture retailer in 2008. The company specializes in ready-to-assemble options.
As of 2014, the company had 164,000 employees and 361 locations worldwide.