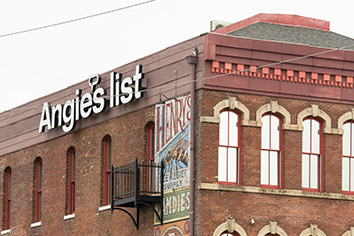 New York-based IAC/InterActiveCorp, the owner of HomeAdvisor, offered to buy Angie's List Inc. for $512 million in cash late Wednesday afternoon, just over a month after an activist investor began pushing for such a deal.
IAC, which said it decided to go public with its bid after Angie's List spurned private overtures, wants to merge Angie's List and HomeAdvisor to create what it believes would be a home services powerhouse.
"The combination of the Angie's List brand, highly trafficked website and its network of paying service professionals with our HomeAdvisor business, the category leader which has seen eight consecutive quarters of accelerating growth in its core U.S. business, would cement our position as the premier home services platform," Joey Levin, CEO of IAC/InterActiveCorp., said in a press release. "We are fully committed to this transaction and are confident that both Angie's List stockholders and our stockholders will recognize the value of our proposal."
IAC said it would pay $8.75 per share, a 10 percent premium to where Angie's List stock closed Wednesday. In after-hours trading after IAC announced its proposal, Angie's List shares soared 11.11 percent, to $8.80, an indication some investors think IAC ultimately will up its bid.
IAC was founded by media mogul Barry Diller, a former movie studio and television executive who is also chairman of Expedia Inc. The company controls about 150 brands, including Ask.com, About.com, Match.com and Vimeo.
"This is just a proposal from IAC and not an agreement, so the ball is in Angie's court to respond," said Blake Harper of Topeka Capital Markets, adding that investor pressure may prompt Angie's List to push for a higher offer.
Angie's List issued a statement Wednesday night saying it would carefully review IAC's proposal "to determine the course of action that the board believes is in the best interest of the company and all Angie's List shareholders." The company said Bank of America Merrill Lynch is serving as its financial adviser, and Sidley Austin LLP is its legal adviser.

IAC was not immediately available for comment.
TSC Capital Management Inc., a New York-based activist investor that owns 10.7 percent of Angie's List stock, in October began publicly pushing Angie's List to
explore a merger
with HomeAdvisor, one of Internet behemoth IAC's numerous portfolio companies.
"Over its long history working with consumers and service providers, Angie's List has built a strong brand and a significant customer and revenue base," TCS managing partner Eric Semler said in a letter to the company.
"However, with competition intensifying in the home services industry, it no longer makes sense for Angie's List to remain a standalone company."
IAC said in its press release that it met with Angie's List's new CEO, Scott Durchslag, and Chief Financial Officer Tom Fox on Oct. 23, and sent a letter to Angie's List's board Wednesday morning.
"We were disappointed to hear that the board is not interested in further engaging with us regarding a strategic transaction involving Angie's List," the letter read. "We continue to believe a transaction involving our companies has a compelling strategic rationale, and we are confident we are well-positioned to swiftly consummate a transaction that will be in the best interests of Angie's List stockholders."
Durchslag suggested in conference call with analysts last month that he
wasn't interested
at the moment in pursuing a merger or sale.
"The right thing to do now is to let us develop our plan so people can take a look at what we can do organically and compare that with other options," he said. "I don't know how anybody can say they know what the best option is for the company until that happens."
Durchslag has since begun
unveiling his vision
for the company, including generating revenue from free users. On Wednesday morning, the company announced a program called LeadFeed, which is designed to capture demand from free online visitors and turn that demand into leads for service providers. 
Please enable JavaScript to view this content.