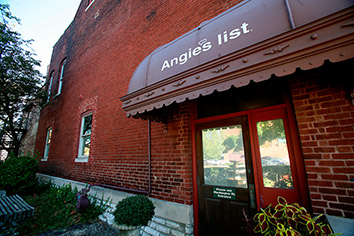 Over the past month, Angie's List CEO Scott Durchslag has resisted the idea of selling the company, despite activist pressure. He has said his preference is to try out his vision for turning around the struggling home-services company and see how that goes first.
But after IAC/InterActiveCorp went public Wednesday with its offer to buy the company for $512 million in cash, Durchslag's position might not matter, said several market analysts familiar with Angie's List. If Angie's List doesn't hash out some kind of deal with IAC, analysts believe a hostile takeover bid will follow.
"If IAC was just going to walk away from this, you would have never heard about this and they would have wiped their hands," said Ken Copley, who covers Angie's List for Iowa-based Capital Executive LLC. "Going public is the first step in perhaps going hostile."
Angie's List is a consumer reviews and marketplace company that sells memberships to consumers and ads to service providers. Marketing and expansion costs have outpaced revenue since it went public in late 2011, and disappointing results helped send the stock as low as $3.76 this July. Durchslag joined the company in September.
IAC, which owns Angie's List competitor HomeAdvisor, had made private overtures to acquire the company, but Angie's List rebuffed them. Mark Foster of Columbus-based investment firm Kirr Marbach said IAC's public disclosure turns up the pressure on Angie's List, which will be hard-pressed to convince shareholders that IAC's offer for at least $8.75 per share is not in their best interest.
"I would be surprised if Angie's List stays independent," Foster said. "I think it's in play. InterActiveCorp is a big company, they've done a lot of acquisitions over the years, and [Chairman] Barry Diller is a hard-charging guy who will push this thing through."
In a statement Wednesday night, Angie's List said it retained investment bankers and attorneys to consider IAC's proposal. The offer represented an 11 percent premium over the previous closing price. The stock fetched around $8.90 early Thursday, indicating investors expect a higher bid.
If Angie's List spurns the offer again, IAC could bypass Angie's management and board and take a so-called tender offer directly to shareholders.
Angie's List board and management own about 25 percent of the company, but activist investor TCS Capital Management, which began pushing for the tie-up last month, has a 10.7 percent stake. Topeka Capital Markets analyst Blake Harper said it's unlikely for Angie's to resist "now that the offer is public and a 10 percent shareholder is pressuring them."
Angie's List could make a hostile takeover unpalatable for IAC through a so-called "poison pill" provision. This could take several fashions, Copley of Capital Executive said, but one could be a bylaw that triggers the issue of a flood of shares in the event of a tender offer.
Angie's List has about 58 million shares outstanding, but a poison pill could double that, effectively increasing the acquisition price for IAC at $8.75 a share, Copley said.
When asked if the company had any such provisions in place, an Angie's List spokeswoman said, "The company does not have a shareholder rights plan in place. We have been and continue to be committed to doing what is in the best interests of the company and all Angie's List shareholders."
IAC proposed an all-cash deal, but it said it was open to a stock-for-stock deal. That involves Angie's shareholders exchanging their stock for IAC stock, which traded around $65.25 Thursday morning. The stock-for-stock deal would be tax-free.
In a letter made public Wednesday, IAC said it wanted to combine Angie's List and HomeAdvisor to create a "premier home services platform" that would generate $700 million in annual revenue with 15 million unique visitors per month.
It's unclear which brand would remain, and IAC didn't immediately respond to requests for comment.
It's also unknown what the business model for any combined company might look like. Angie's List charges members, and HomeAdvisor lets anyone search for home service professionals for free. HomeAdvisor charges contractors for access to its network and has a pay-per-lead model.
Kerry Rice, an analyst with Needham & Co., said he wouldn't be surprised if IAC keeps the brands separate, as it has with a number of other offerings such as dating sites Match.com and Tinder.
"They have two very solid properties that may suit some service providers in one way and some service providers in another way," Rice said.
Whether IAC fuses the two entities or not, analysts believe cost cuts and even job cuts will likely follow.
"You don't need two staffs running two different platforms," Rice said. 
Please enable JavaScript to view this content.