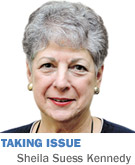 Municipal elections are over, and the candidates for local offices are either licking their wounds or taking a victory lap.
I'm not sure which ones we should feel sorry for.
In a very real sense, campaigns—exhausting and maddening though they may be—are the glamorous part of public life. A good campaign (OK, I realize there aren't a huge number of those, but bear with me) is an opportunity to meet with voters, to explain one's political philosophy, and to debate the merits of contending policies.
For incumbents, it's a chance to explain and defend past performance; for challengers, it's a chance to explain why that incumbent should be replaced, and why the challenger is clearly the person who can do the job better.
Most of all, campaigns are contests, "horse races," and we Americans demonstrably love a good battle. We're a lot less interested in the intricacies of policy analysis or program evaluation—in how the boring, day-to-day job of lawmaking and administration works, or doesn't.
During the recent municipal campaigns, a number of civic organizations collaborated to present a series of programs at Indianapolis' Central Library. Called "Electing Our Future," the three nonpartisan and non-ideological presentations focused on those less-exciting elements of governing: What does our governing structure look like? What are the issues we are electing people to address? What do we want our city to look like in 2020?
In other words, what problems will face the people we are electing? What is it that we want them to do? And who are "we"? What if some of us approve of continuing to subsidize sports arenas and ambitious development projects and others don't? What if some citizens approve of "public-private" partnerships and others are convinced these arrangements are "crony capitalism," enriching the politically connected at the expense of the less affluent?
Even in the absence of polarized opinions, what can elected officials do to ameliorate poverty? Improve public transportation? What can a mayor and councilors do to improve public education? Public health? Voter turnout and civic engagement? Trust in government? Which of these is included in their job descriptions?
And the biggest question of all—the 500-pound gorilla, the elephant in the room—how will the new administration and council provide even the most basic public services, from public safety to paving streets to picking up trash, in the face of steady erosion of the resources needed to deliver those services?
Indianapolis and other cities in Indiana are struggling with the consequences of what might have been the worst policy decision in the state's history: the constitutionalizing of property-tax caps.
Whatever the merits of the caps, the formula imposing them, or the restraints on spending they required, political experience (not to mention common sense) taught that those caps should have remained statutory. When an idea has unintended consequences, a statute can be modified or repealed. Constitutional provisions, not so much.
Constitutions are meant to address broad principles, not the mechanics of taxation, so the insertion of a highly technical tax formula was bad enough on theoretical grounds. Worse, Hoosiers are unlikely to vote to get rid of the caps no matter how unworkable and damaging they are.
When the rosy glow of victory fades, our new mayor and council will have to figure out how to find the money to do the things that absolutely must be done, as well as what they promised.
I wish the winners well. They have my condolences.•
__________
Kennedy is a professor of law and public policy at the School of Public and Environmental Affairs at IUPUI. She blogs regularly at www.sheilakennedy.net. She can be reached at skennedy@ibj.com. Send comments on this column to ibjedit@ibj.com.
Please enable JavaScript to view this content.