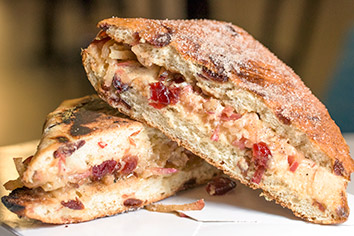 The seemingly contradictory pleasures of City Market include its predictability and its flexibility. It's predictable in that, if you haven't popped into the historic landmark/food court in a while, you'll still find old favorites (and an avoidance of chains). It's flexible in that, if you haven't visited in a bit, you are also likely to see newcomers added to the mix.
The latest is Say Cheese Deli and Bistro(222 E. Market St., 900-6693). Bedecked with playful signage (e.g., "This kitchen is for dancing") and a menu handwritten on butcher paper, Andrea Smith's and Shanna Bilski's booth focuses on grilled cheese variations but also offers a variety of cheeses in its deli counter. Like most of the market, it caters to a lunch crowd, closing at 3 p.m.
The Big Man ($8)—a surprising name for a place run by two women—offered white cheddar, an ample supply of crispy (the way I like it) bacon, baby spinach, tomato, and bacon jam on multigrain wheat bread. Like other sandwiches we tried, the cheese could have been melted more for my taste (I'm a believer that if it still has edges, it's not quite there yet).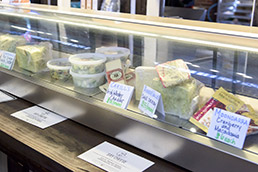 Customers can order a variety of cheeses and grilled cheese sandwich variations from the deli counter. (IBJ photo/Eric Learned)
Kickin' It Old School ($7) seems like the moniker for a basic grilled cheese sandwich. This one, though, mixed American, provolone and white cheddar with chive cream cheese on comfortable, familiar white bread, wisely appealing to traditionalists but different from the sandwich you could easily throw together at home. Meanwhile, Something Spicy ($8) packed chipotle chicken, sauteed peppers and onions, and pepper jack cheese between telera bread (a savory Mexican cousin of the baguette) with a smear of chipotle mayo. I suggest saying yes to the offer of fresh jalapenos. If not, why are you ordering a sandwich with this name?
While not mandatory, I think you're missing a big part of the pleasure if you don't add on Tomato Basil Bisque ($4 a cup or $1.50 a dip—a nice option). There's also a daily soup which, on both of my visits, was a creamy Broccoli Cheese.
And, yes, there's dessert. It's called the Apple Pie ($5), but it's really a playful grilled sandwich with slices of red delicious apples mixed with apple butter Brie, on cinnamon, sugar, nutmeg, cranberry ciabatta bread.•
Please enable JavaScript to view this content.