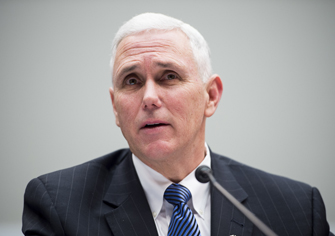 Gov. Mike Pence on Monday directed all state agencies to suspend taking in Syrian refugees until "proper security measures have been achieved."
Pence's decision comes after Friday's terrorist attacks in Paris that left more than 120 people dead and 352 wounded. The Islamic State of Iraq and Syria—ISIS—has claimed responsibility for the attack.
Twenty-five Republican governors now have vowed to block the entry of Syrian refugees into their states, arguing that the safety of Americans was at stake after the Paris attacks by terrorists included a man who entered Europe with a Syrian passport and posed as a migrant. 
"Indiana has a long tradition of opening our arms and homes to refugees from around the world but, as governor, my first responsibility is to ensure the safety and security of all Hoosiers," Pence said in a written statement. "Unless and until the state of Indiana receives assurances that proper security measures are in place, this policy will remain in full force and effect."
The Refugee Resettlement Office in the Division of Family Resources in the Family and Social Services Administration administers the Syrian resettlement program.
Marni Lemons with the FSSA said 40 Syrian refugees have been resettled in Indiana since 2010. Of those 40 cases, 20 refugees have been relocated to the state since the 2015 federal fiscal year. No cases are pending at this time.
"That number (of refugees) is a lot lower than most of our neighbors because the refugee organizations work closely with each other and they target certain areas for certain populations mainly because they like to settle people where they have relatives or acquaintances or churches with their religion," Lemons said.
Nearly 2,000 refugees from Syria have relocated to the United States since 2012, according to The New York Times, and President Obama has said that the United States will accept 10,000.
Lemons said the FSSA works closely with two primary resettlement organizations, Catholic Charity and Exodus.
"To become a refugee, you have to demonstrate that you are fleeing from some sort of political turmoil or strife. They're not like other immigrants," she said.
Pence may be overstepping his authority, said David Orentlicher, a former Democratic member of the Indiana House of Representative and a constitutional law professor at the Indiana University School of Law in Indianapolis.
Orentlicher said an important principle is that the states can't interfere with federal policy.
"Our federal policy is that we only accept a certain number of refugees and if states in effect block that, then he can't do that. He can't take action that would block resettling of Syrian refugees in Indiana," he said.
U.S. Rep. Todd Young, R-Indiana, released a written statement applauding Pence's move to suspend Syrian refugee resettlement in Indiana.
"With matters of national security, there is no room for error," Young said in the statement. "We must be certain that our verification procedures protect the American people from threats from ISIS issued against our homeland in the wake of the Paris attacks."
He said that the United States must work with allies to help establish refugee strategy or the region runs the risk of allowing ISIS to gain strength.
U.S. Rep. Larry Bucshon, R-Indiana, echoed Young.
"We are a welcoming, humanitarian nation and state; however, in light of the recent terrorist attacks in Paris—and the threats we face around the world—it's critical that we prioritize the safety of the American people," Bucshon said in written comments.
But U.S. Rep. Andre Carson, D-Indiana, said Indiana has a humanitarian duty to provide a "safe haven for those escaping persecution and violence."
"As a member of our Intelligence Committee, I believe that rather than looking for ways to keep refugees out, we should be discussing how we can strengthen our screening processes to better detect those who pose a risk to our country," Carson said in a statement.
Please enable JavaScript to view this content.