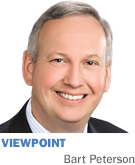 China's economy has been in the headlines of late, with concerns raised about its growth rate, volatility in its stock market, and even the accuracy of government-reported economic data.
Here in the heartland, we might be tempted to give short shrift to these headlines. The reality, however, is that China matters very much to Indiana's economy, and its significance will only grow.
Indiana is one of the most export-focused states in the United States. Last year, Indiana companies generated $35.5 billion in exports—the vast majority of which (85 percent) came from businesses with fewer than 500 employees.
Those exports mean jobs. According to the U.S. Department of Commerce, Indiana's non-agricultural exports support 187,000 jobs, more than all but 10 states.
With our strengths in agriculture, manufacturing and life sciences, China is a natural market for Indiana companies. It is already the state's fifth-largest trading partner and, as the world's second-largest economy, China's importance to our future is hard to overstate.
Transportation equipment is Indiana's largest non-agricultural export, making China an important market for Allison Transmission, Cummins and Delphi.
To no surprise, those companies have significant operations in China—but so do other big companies, such as Dow AgroSciences, Eli Lilly and Co. and Hillenbrand. And companies that are not household names, like Cathay Industries and Ener1, also are heavily engaged in China.
Certainly, China is a critically important emerging market for Lilly. Our presence there includes both manufacturing facilities and a research-and-development center focused on new treatments for diabetes. In addition, more than 500 of our Indiana-based employees are Chinese.
China is also making significant investments in Indiana. Seven Chinese-owned or jointly owned companies operate in Indiana, from Sutong Tire (a logistics provider for RV wheels and tires) in South Bend to Haier America (a multinational home appliance and consumer electronics manufacturer) in Evansville. Earlier this year, Haier expanded its Evansville footprint with a new, 30,000-square-foot North American technology center.
Another significant area where Indiana's connection to China can be seen is higher education. More than 10,000 Chinese students attend our universities, several of which have established Chinese exchange programs. Purdue University is at or near the top of American universities in the number of Chinese students enrolled.
Those students, as well as the immigrants who come to our state from China, greatly enrich our cultural diversity.
So, given the strong ties between Indiana and China, how concerned should we be about China's recent economic challenges?
As is often the case with China, a long-term view is useful.
After 30 years of double-digit growth, an eventual slowdown in China's economy was inevitable. Following massive investments in infrastructure projects, China is now attempting to transition into a modern, high-tech consumer economy.
As with any transition, there are disruptions along the way. In the long run, however, China's growth prospects are strong, and the economic opportunities are many.
Of course, it is important to stress that our relations with China should not be seen solely through an economic lens. China's political system is very different from our own, and many important disputes remain between our two countries.
China is a complicated place, to be sure. But in the long run, its prospects are bright. Maintaining a strong relationship is in the best interest of both nations—and it is certainly in the best interest of Indiana.•
__________
Peterson, mayor of Indianapolis from 2000 through 2007, is the senior vice president of corporate affairs and communications at Eli Lilly and Co.
Please enable JavaScript to view this content.