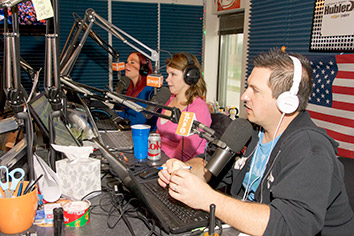 In just one year, WZPL-FM 99.5 has raced from ninth to first in the Indianapolis radio market among listeners age 6 and older—the broadest demographic category measured.
In September and October, the Top 40 station earned an 8.7 share, which represents the percentage of radio listeners tuning in. In doing so, the station has opened a considerable margin over its closest competitor—soft rock WYXB-FM 105.7—which scored a 7.3 share in each of the last two months, according to New York-based The Nielsen Co.
For WZPL, the numbers are the highest since the spring of 1992.
"We're on an incredible run," said the station's operations manager, JR Ammons.
It's a climb that can be traced to a resurgence of Top 40 music and tweaks WZPL has made to try to better serve its listeners.
So far, that's worked.

Ammons
WZPL has seen its year-over-year share grow 3.4 points, from 5.3 in October 2014, while many other stations have been fairly flat or, in some cases, on the decline.
And WZPL's weekly cume—the unique number of people who have listened for at least five minutes over a seven-day period—has grown from 392,600 in October 2014 to 488,400 this October, according to Nielsen. That's a 24 percent jump.
The station's October weekly cume in the 6+ age group outdistanced all other local stations by more than 90,000, except for Indianapolis-based Emmis Communications Corp.'s powerhouse, WYXB, which it beat by 39,400, according to Nielsen.
"Those numbers are really strong and show the overall appeal of the station," said Scott Uecker, a University of Indianapolis communications instructor and general manager of WICR-FM 88.7. "Making it more impressive is that this growth is coming at a time when there's tremendous fragmentation of the music listening audience with satellite radio, Spotifty and Pandora and endless Internet offerings."
As strong as WZPL is overall, it's even stronger with its primary target audience: women. In certain time slots, nearly one in four women ages 18 to 34 who are listening to radio are tuned to WZPL, according to Nielsen. In the 18-to-49 segment, the station is nearly as strong.
The numbers are significant for revenue.
Among women age 25 to 54—one of the most sought-after segments for ad buyers—WZPL has held the No. 1 spot for seven consecutive months, according to Nielsen.
But WZPL isn't just for women. The Pennsylvania-based Entercom Communications-owned station has been No. 1 with all listeners age 25 to 54 for four consecutive months, according to Nielsen.
The foundation for the station's ratings growth was laid in January, Ammons said, when WZPL commissioned a market study. The station received the results in late February and started making programming changes in early March.
"There had been a lot of changes in the market and we wanted to get the lay of the land," he said. "We wanted to tell the future before it happened."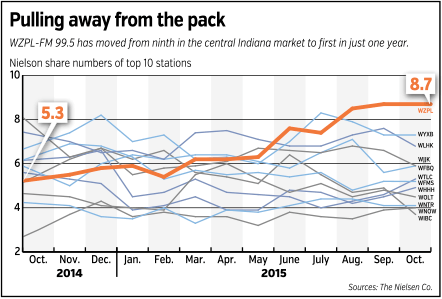 In March, WZPL shuffled a couple of on-air personalities and leaned toward music by Taylor Swift, Fall Out Boy and Demi Lovato and away from electronic dance music and hip-hop.
"Top 40 is a wide format," Ammons said. "The market study told us what our lane was. It allowed us to fine-tune our product. It sounds so simplistic, but it was really just listening to the audience."
The market research also told WZPL officials how much their listeners liked the station's community events—including Jingle Jam, coming up next month.
"We found out our audience really craves that community engagement," said Entercom's local-market manager, Jennifer Skjodt. "So we have a team of people that are really dedicated to delivering not just the music, but service to the community."

Skjodt
Also a big help is that the Top 40 format "is simply on fire," said Tom Taylor, publisher of a national broadcasting newsletter. "Taylor Swift is the biggest recording artist of the last decade or two. Adele just released a new album. Justin Bieber has a new album. The artist known as The Weeknd has a new hit song out. It doesn't get much better than that."
WZPL's share in the age 6+ category grew from 5.4 in February—eighth in the market—to 6.2 in March. At that point, WZPL still trailed Emmis' country stalwart, WLHK-FM 97.1, and Boston-based iHeart Radio's rock 'n' roll station, WFBQ-FM 94.7, and was in a dead heat with WYXB and WRWM-FM 93.9, which this year was recast as old-school hip-hop.
WRWM is one of several stations nationally that jumped to old-school hip-hop over the last year, making the switch in December 2014. Its share of listeners 6+ increased from 1.7 last December to 7.7 in January, according to Nielsen. But over time, WRWM's share tailed off as the format cooled. In the last three months, it's ranged between 3.5 and 4.6, according to Nielsen.
Media buyers think WZPL's rise will have more staying power because the Top 40 format is continually fueled by new music.
WZPL held steady in April, grew to 6.3 in May, and rose to 7.6 in June.
"You have to be careful about summer ratings," Uecker said. "Ad buyers are always leery because listening habits change so much when kids are out of school and families' schedules change dramatically during those months."

Uecker
But WZPL's ascent has continued unabated through the fall. In August, the station climbed to the top of the radio heap with an 8.5 share, then to 8.7 in September and October, according to Nielsen.
"This station certainly has the attention of ad agencies and media buyers now," said Bruce Bryant, president of locally based Promotus Advertising.
When Bryant tried to buy ad time on WZPL over the last two months, he said, "inventory was scarce," especially in the morning.

Bryant
"I couldn't get all the spots I wanted," he said. "That sort of scarcity is what eventually pushes ad prices up."
While demand for advertising on WZPL is on the rise, local buyers said the station's rates for 30- and 60-second spots still trail the likes of country stations WFMS-FM 95.5 and WLHK by about 10 percent. WYXB remains a serious competitor for advertisers trying to reach women.
And as popular as WZPL morning disc jockey Dave Smiley is, his show can't best ad rates garnered by WFBQ's "Bob & Tom" morning show. One ad buyer estimated WZPL's morning spots cost just more than half the price of spots on "Bob & Tom."
But overall, WZPL's share numbers are rising "at an absolutely critical time," Bryant said. "This is the time of year when a lot of ad buyers are looking to make their annual buys."
WZPL's Ammons said he wouldn't be surprised by a double-digit ad-revenue increase in the first quarter of 2016.
"The types of [share] increases we've seen can't help but be reflected in ad revenue," he said. "We've positioned ourselves to be successful for a very long time."
Skjodt thinks there's still room for growth.
"You never want to think you've reached your potential," she said. "We think we can win even more loyal fans."•
 
Please enable JavaScript to view this content.