It wasn't long ago that the Allisonville Road corridor through Fishers was considered a thriving gateway.

Housing growth was strong on the west side of the suburb in southeastern Hamilton County during the 1990s, which drew retail and commercial businesses to Allisonville.

Seizing the opportunity, Indianapolis-based Centre Properties LLC in 1997 purchased about 200 acres near the corner of Allisonville and 96th Street and pitched an ambitious mixed-use project.

But since that time, residential development has crept east, along Interstate 69, and the population near Allisonville Road has aged from young families to empty-nesters. As a result, retail and commercial vitality along the corridor has hit a wall. Work on the $500 million project proposed by Centre never started.

Now, local officials say they recognize the need to revitalize Allisonville Road, and the area is a priority as the city creates a framework for the future through its comprehensive plan, which looks as far ahead as 2040.

"I honestly think there's a lot of opportunity—it's a matter of timing," said Fishers Mayor Scott Fadness.


Fadness
And even Centre Properties President Craig Johnson said that, while there's nothing new to report on the 96th Street development, he's still optimistic.

"We have waited a long time for the stars to line up, and there is every indication they are doing so," Johnson said in an email.

The commercial corridor, roughly stretching from 96th to 126th streets, is dotted with offices, retail centers, undeveloped parcels and vacant buildings. Earlier this year, a Marsh grocery store closed near the 116th Street intersection and Walgreens shut down operations near 96th Street.

But all the news isn't negative. A climate-controlled self-storage facility and a martial-arts business are in the pipeline.

"To me, the whole corridor is an area in transition," Fishers City Council member Rich Block said.

The roadway also borders the Indianapolis Metropolitan Airport, which has about 300 acres of undeveloped property that will soon be on the market. The Indianapolis Airport Authority and city of Fishers are partnering to determine the right uses for the land.

"I could see that being a very big positive," Block said. "I think that's going to add employment to the area."

He said Fishers' downtown revitalization has brought some commerce back to the west side of the city.

Block
"Now, to go two minutes further west … it's an easier decision for people to make," Block said.

A big question mark for the corridor, though, is the Centre Properties project on 85 acres near 96th and Allisonville known as River Place.

Centre spent years fighting environmental issues and traffic concerns, but in 2008 those problems settled. The Fishers Planned Unit Development Committee approved a five-story, 138,000-square-foot office building, and it seemed as if the development was getting started.

Plans included 600,000 square feet of retail space, 1,000 luxury condominiums, two hotels and 300,000 square feet of office space. A buildout of seven to 10 years was anticipated.

Construction on the office building was to start in 2008, but shovels never hit the ground as demand for office space turned sluggish.

Centre officials had even said they were talking to a major retailer—some believed it was Target—and expected an announcement before 2009 and an opening date in mid-2010.

Meanwhile, Simon Property Group Inc.'s lifestyle shopping center Clay Terrace, at 146th Street and U.S. 31 in Carmel, continued to attract retailers and Simon also opened Hamilton Town Center at I-69's Exit 210 in Noblesville, just north of Fishers city limits.

"Any kind of power retail didn't really make sense," Fadness said about River Place.

The land remains vacant and is still controlled by Centre Properties.

"For them, there's a significant amount invested in that area," Fadness said.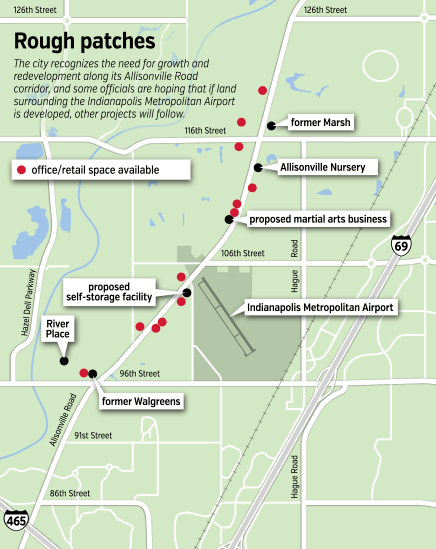 Johnson, president of Centre, said a grocery appears to be a strong prospect now, and the developers have been pursuing the possibility of a multifamily, mixed-use project.

"It's a very viable piece of ground to be developed," Fadness said. "I'm just not sure the vision that was cast in the [planned unit development] is going to come to fruition."

Block agreed that it would now be "very difficult for retail to be viable at that location," adding the space is probably better suited for offices.

As for the rest of the corridor, officials are open-minded—some retail, multifamily residential, office or light industrial are options under discussion.

And a variety of possibilities have been floated for the vacant Marsh near 116th Street, including retail, institutional uses, a community center or a children's museum.

"I'd love to see something like that occur," Block said about the museum. "That'd be very good and creative."

Fadness said he doesn't expect the city to be hands-on with redevelopment of the corridor other than investing in trails or parks. The city has no intention of buying parcels of land to reserve for redevelopment.

"Ultimately, the businesses have to support themselves," Block said.•