(IBJ Photo/ Eric Learned)
Executive Vice President, CFO
The National Bank of Indianapolis
When Debra Ross joined The National Bank of Indianapolis, she wasn't just CFO, she was the entire finance department. The bank, now the state's 11th-largest, with nearly $1.7 billion in assets and 12 locations, wasn't even open to the public yet.
In the run-up to the December 1993 opening, Ross said, "I wore a lot of hats."
Ross has helped keep the bank profitable through every year of its existence—even during the global financial crisis. The bank managed that difficult time without taking bailouts or money from the federal Troubled Asset Relief Program, and it avoided the allure of subprime mortgages.
"And we didn't cut staff or wages," she said proudly.
Ross has long had an interest in numbers. But, she said, "I wasn't exactly the smartest teenager ever." Tired of school after a year at the University of Indianapolis, she left to work as a bank teller in Versailles. She moved back to Indy to work at Arsenal Savings (which was bought out by Union Federal) and decided to complete her accounting degree at night.
After graduating, she found work in public accounting, where one of her clients was Summit Bank. She joined Summit and later jumped to Indiana National Bank, where she was working when it was acquired by NBD.
She stayed on after the merger. "It was my first time working for a large bank, and I became frustrated really fast. Something as simple as setting up voice mail needed to go through five people."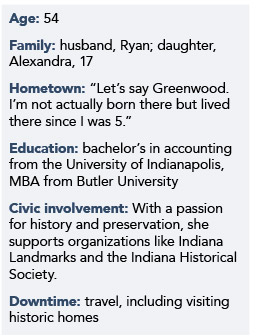 The National Bank of Indianapolis proved an ideal fit.
"I never thought about how risky it was," Ross said. "It was hard work but actually a lot of fun. I knew how to do a lot more than debits and credits, since I had worked in small institutions. It was what I knew and I was excited by the opportunity." The National Bank of Indianapolis staff has since grown from about a dozen employees to more than 300.
Ross has worked at the bank 22 years—rare longevity in the world of banking, which has its advantages.
"There's a rapport that you build," Ross said. "You can anticipate some of the things they want and know the way they look at things. It makes you more efficient in your work."
The success of the bank, she said, is rooted in relationships. "We're not here to be the cheapest bank in town or the one with the most services," she said. "You can go across the street and have that. We want to provide the best customer service."•
Check out more CFO honorees..
Please enable JavaScript to view this content.