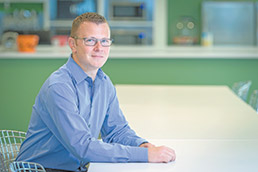 (IBJ Photo/ Eric Learned)
CFO
MOBI
Spun out of Bluefish Wireless, MOBI provides software and services to help companies manage their mobile devices.
"We pay the bills, monitor and make sure they are being used properly, manage their security—soup to nuts," Chief Financial Officer Andrew Davis said. "Our largest client has about 40,000 devices, our smallest about 500."
And investors have taken note. In his first year as chief financial officer, Davis this summer led a $35 million capital raise, which tied for the largest private equity raise in Indiana so far this year. Even more remarkable: The time from the decision to go after private-equity money to closing on the investment was only six months.
Davis traces his interest in finance to his uncle, a CPA who opened a practice in Fort Myers, Florida.
"My sister and mother and aunt and grandmother were all educators. But I was the black sheep," he said. "I wanted to follow in my uncle's footsteps."
An internship with his uncle led to work every summer while he attended IU. The day after graduating with his MBA, he married. And the day after that, the couple moved to Florida.
Davis gravitated toward tax "but I burned out on that and looked to private instead of public." He worked as controller for a boat and yacht sales company ("I thought every job was going to let me wear shorts and flip-flops") but opted to move back to Indiana to raise his two kids.
With Milestone Advisors, he became an outsourced controller and CFO for a variety of companies.
Soon, he was attracted to Orbis Education, a maker of nursing-education software. "They were looking for someone to help raise capital, and that's what I wanted to do."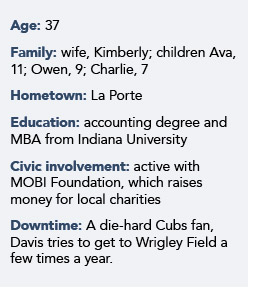 Seven rounds of financing (capped with a $20 million private equity deal) was "great experience with just about every type of security and every type of investment company," he said. "I gained a ton of experience in those six years."
After an unsatisfactory few months as chief financial officer of the American College of Education, he took a few months off at home with his kids and networked with everyone he knew in search of the perfect job, turning down offers while he waited.
When the call came from MOBI, he jumped.
"It's been fantastic," he said. "The culture of MOBI is an incredible phenomenon."
He's particularly proud of the MOBI Foundation, for which he serves as treasurer as it raises money for local charities selected by employees.
"In Indiana, finding capital is becoming easier than it used to be," Davis said. "We're being seen now as a high-growth tech center. [Investors] love—and I've heard this over and over again—the work ethic and moral standards. It's much different than Silicon Valley. They find that very refreshing."•
Check out more CFO honorees..
Please enable JavaScript to view this content.