(IBJ Photo/ Eric Learned)
CFO
MS Companies
MS Companies provides "workforce as a service to the automotive industry, currently specializing in quality assurance services."
Confused? No worries. CFO Nick Vandergrift admits he "didn't really understand what it meant for about six months." The company specializes in millennial recruiting, pairing more than 100,000 workers with clients in need of a flexible workforce. The company's largest clients include Honda, Johnson Controls and Lear Corp.
Vandergrift clearly has caught on. During his brief tenure, MS Companies has become one of the fastest-growing privately held businesses in the United States, experiencing $65 million in revenue growth. Meanwhile, its client base has increased by about 1,000 in just three years.
"We've been able to drive results by constantly looking at tech," Vandergrift said, pointing to cloud-based solutions that now provide real-time visibility for key performance indicators. "When I started, my youth was a weakness. Now it's a strength. We're constantly looking for ways to evolve."
His own evolution included hopes of playing basketball at Purdue University. But he transferred to Anderson University when he failed to make the roster.
"I thought I might coach basketball," he said, after captaining Anderson's team. But a trusted mentor guided him toward accounting and finance.
After securing a graduate degree from the IU Kelley School of Business, Vandergrift found public accounting work at Slattery & Holman, where he specialized in medical practices and medical consulting work. (It helped that his father ran a medical group.) Then he migrated to the Business Advisory Group at Katz Sapper & Miller until a controller position opened at MS.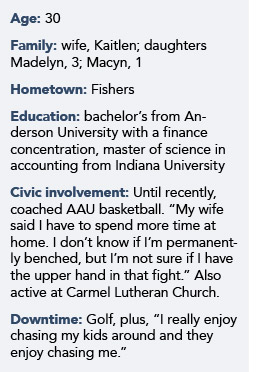 "When I got there, we were still paper-based," he said. "The capacity for growth was limited because most of the human capital was tied up pushing paper. Once we got those guys free to build relationships and communicate about our quality processes, we really grew."
He said the company has built some "really great tools," designing its own tech to match its needs. "Being able to look at real-time financials puts us in a much different place than a lot of other companies."
Changing the company's banking relationships was another Vandergrift-orchestrated move that enabled the company to grow faster. Since his arrival in 2012, MS Companies has increased revenue at a 38 percent compound annual rate. Profitability also has zoomed higher.
"The next few years are really exciting," he said. "We've got a tremendous potential for growth in front of us. We'll start to diversify and expose ourselves into other verticals. The economies of scale are starting to kick in."•
Check out more CFO honorees..
Please enable JavaScript to view this content.