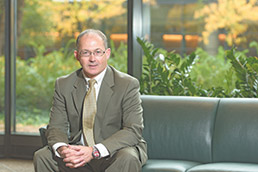 (IBJ Photo/ Eric Learned)
Executive Vice President, CFO
OneAmerica Financial Partners
There were a lot of high-fives at the OneAmerica Financial Partners offices in September when the company completed its acquisition of BMO Retirement Services.
The addition of BMO increases assets under administration by $26 billion—to $70 billion, nearly triple where they were four years ago.
OneAmerica Chief Financial Officer Jeff Holley had started working on the deal only seven months earlier.
"It was a major team effort," he said, "and now everyone is busy working on the integration and consolidation process. This will have a transformative effect on our retirement services business."
Not only is it a win financially, he added, "but it's also an opportunity to improve all of our processes. We built in a significant amount of investment dollars as part of the purchase price."
Holley worked at PricewaterhouseCoopers and CUNA Mutual Group, as well as with his own company, HLT Partners, before coming to OneAmerica in 2011.
He hadn't been looking to leave Wisconsin, but he was open to the idea of a position where he could make a significant contribution to an organization's strategy. And OneAmerica, the insurance and financial services company with roots dating to 1877, fit the bill.
Brought in as senior vice president and chief financial officer, he was promoted to executive vice president after 2-1/2 years.
Holley led OneAmerica's 2014 acquisition of City National Bank's $7 billion retirement services business (with 98 percent of the former City National clients agreeing to transfer their business to OneAmerica) and guided a $100 million, three-year investment in technology and operations. The company has added 418 employees in the past 21 months—283 from acquisitions—taking the total workforce to 1,900.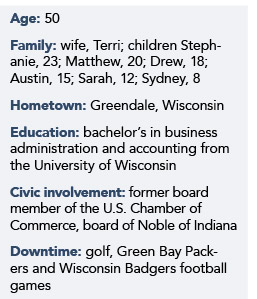 "That's good for Indianapolis and it's good for us," Holley said. "We love to grow."
While the BMO deal happened quickly, Holley didn't take shortcuts to get to the finish line. Company officials studied more than 200 potential scenarios to fully grasp the risks and potential rewards of the deal.
"Jeff has also rationalized our planning and budget process," OneAmerica CEO J. Scott Davison said. "His ability to understand the interconnectedness of the company's levers for growth has created a more holistic approach to managing our business."
When hiring employees, Holley said, OneAmerica looks for tech skills and abilities, "but also a desire to make a significant contribution and do the right thing. We look for people who are highly ethical and want to work in a collaborative way with the organization."
"We are really trying to empower people to do great things here," he said.•
Check out more CFO honorees..
Please enable JavaScript to view this content.