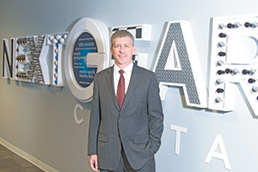 (IBJ Photo/ Eric Learned)
CFO
NextGear Capital
Dave Horan became interested in accounting while attending Lawrence Central High School, where he received a number of awards in a statewide competition.
"That really attracted the ladies," he joked. "I knew in junior year that this was going to be my career path."
Years later, that decision would prove good news for Carmel-based NextGear Capital, the largest independent auto dealer inventory-finance company in North America.
NextGear was created after Atlanta-based Cox Enterprises bought Carmel-based Dealer Services Corp. in 2012 and combined it with Atlanta-based Manheim Automotive Financial Services.
In 2010, Horan's first year as chief financial officer of Dealer Services Corp., its receivables base was $405 million.
As of the end of October 2015, NextGear managed $3.5 billion. While about $1 billion came from the Manheim acquisition, growth has nonetheless been explosive.
After high school, Horan took a job with Comcast Cable—which, he said, "grounded me in a customer-service mentality"—while chipping away at his IUPUI degree. He worked his way up to accounting manager. Offered the choice of a transfer to Philadelphia or West Palm Beach, he followed the sun.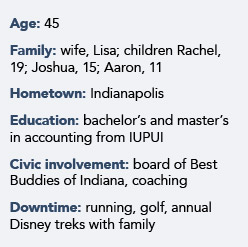 "But I'm a Midwesterner at heart," he said, and a year and a half later, he packed up a U-Haul, loaded his family's belongings in his mother's garage, and joined the Carmel-based used-car chain JD Byrider as corporate controller.
His next job was at the Indianapolis-based auto auction firm Auction Broadcasting, where he said his role was "to take something already created and put some organization to it," including putting disparate auctions on the same platform. He especially enjoyed opening new facilities, which cost in the $10 million to $12 million range.
"That's a lot of asphalt," he said.
That experience proved helpful when he joined Dealer Services Corp. when it was founded in 2005.
"The first day, my desk was a fold-up card table and my first filing cabinet was a cardboard box," he said.•
Check out more CFO honorees..
Please enable JavaScript to view this content.