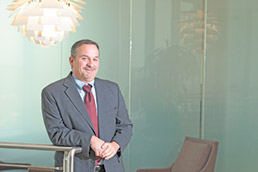 (IBJ Photo/ Eric Learned)
CFO
Taft Stettinius & Hollister LLP
Taft Stettinius & Hollister CFO Joseph Stein wasn't confident he'd still have his job after he learned in 2008 that the firm would be merging with Sommer Barnard.
"My immediate reaction was, 'I don't survive,'" recalled Stein, who joined the firm in 2003. "Typically, high-ranking administrative people don't survive mergers."
But not only did Stein stay with the firm, he thrived as an integral part of the team that guided the company through a series of mergers and acquisitions.
"It is very uncommon for a non-lawyer to have a seat at the table in merger discussions, especially 'bet the firm' type of discussions," said Taft Partner-in-Charge Robert Hicks. "Not only was Joe able to handle the role that we placed him in, we believe that—without his involvement in the discussions—we may not have pulled off the merger" in 2014 with Chicago firm Shefsky & Froelich.
Taft is now staffed by 400 attorneys across nine offices.
"We do everything in our power not to disrupt the culture of the local office," Stein said. From different pay scales from city to city to divergent attitudes toward casual Fridays, giving the offices such autonomy "can be a detriment to an administrative person such as myself, but we believe it's worth it. One of the biggest issues with merging is losing your culture, and we believe it's mission-critical to maintain a great workplace where people are excited to give their all."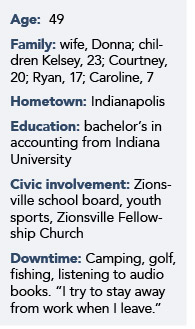 Stein believes a big part of his job is helping attorneys become more efficient.
"Attorneys are constantly looking for ways to streamline," he said. "The more efficient they become, the more hours they can bill, the more profitable we can be." That means staying on the cutting edge—rather than bleeding edge—of technology so that "someone else works out the bugs before we make the investment."
And it means making sure new software can be incorporated while the attorneys are doing their jobs.
A graduate of North Central High School and then IUPUI, Stein worked in public accounting for KPMG, earned his CPA license, managed a medical practice, and was CFO for Midwest Fulfillment Corp. before joining the law firm. Hired on as controller, he was promoted within a month to CFO, a job he loves.•
Check out more CFO honorees..
Please enable JavaScript to view this content.