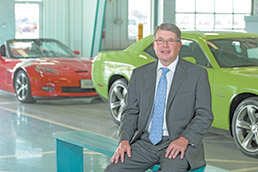 (IBJ Photo/ Eric Learned)
Executive Vice President, CFO
KAR Auction Services
KAR Auction Services had an initial market value of $1 billion in April 2007. Now it's in excess of $5 billion. And while KAR CFO Eric Loughmiller doesn't take sole credit for that remarkable rise, it's impossible not to credit his office as a driving force.
"We did that by focusing on optimizing," he said. "That's not maximizing. Maximizing can be a short-term decision. Optimizing is making the right cost/benefit decisions that are sustainable and allow us to invest in growing the businesses and to creating significant shareholder value."
Carmel-based KAR, a Fortune 1,000 company, operates used-vehicle auction services for sellers and buyers around the world. It employs more than 13,000 people who handle millions of small transactions that distribute $25 billion worth of payments to sellers of vehicles each year.
Loughmiller might not have gotten into the business if it weren't for shrimp. While sorting out what to do with his academic life, a family connection led him to lunch with a partner from Price Waterhouse during his senior year of high school.
"We had shrimp for lunch," recalled Loughmiller. "I never ate shrimp before. I thought, 'If I can eat shrimp for lunch, I want to do this.'" So he pursued accounting, parlayed the lunch into an interview during his junior year of college, and wound up working for Price Waterhouse in Peoria after graduating. Working up through the ranks, he transferred to Chicago and rose to partner before leaving in 1997.
It was a difficult decision.
"I assisted more than 30 companies with public offerings of stock and bonds," he said. "I worked unbelievable hours, but I loved Price Waterhouse." He was approached by a family-owned business, May & Speh Inc., which was transforming into a public company. "I worked on Wall Street as an adviser, but one thing I wanted to do was to be on Wall Street representing a company—not just being an adviser but being the company."
After helping May & Speh merge with Acxiom, he agreed to a two-year stay with the new company to assist in creating an IT outsourcing division. Work with other companies followed, including one where he realized, "The emperor had no clothes. The founder and visionary wasn't the most honest person in the world. I could have helped if he was willing to be helped."
There are a lot of people with great ideas and there are people who are great at business," he said. "But there are only a select few who have great ideas that they turn into great businesses. Most great businesses are built off the idea of others."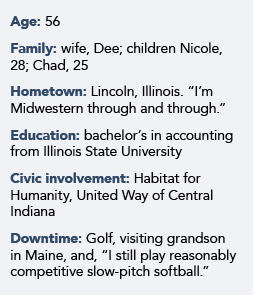 He decided he didn't want to be in a business where he was concerned about how to make payroll—a business where months could go by before generating revenue.
"I wanted to sell widgets," he said.
He found that company in KAR, which he believed was already a great company when he arrived. "It was very successful but did not have the motivation to optimize profits," he said. "They made their money and that was good enough."
Through optimization, he said, KAR now has "the resources to invest in technology and increase the appetite to take risks." In 2011, KAR completed a major acquisition of OpenLane, whose profitability rose sharply.
Loughmiller said KAR's outlook is bright, given that there are 275 million cars on the road in the United States and Canada, 45 million of which change hands every year.
With KAR involved in 4 million used-car and salvage transactions, "We don't see any end to our ability to grow."•
Check out more CFO honorees..
Please enable JavaScript to view this content.