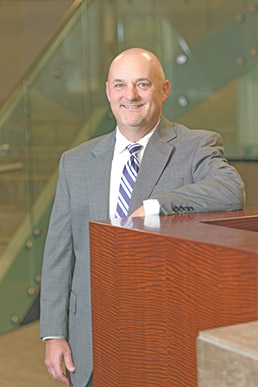 (IBJ Photo/ Eric Learned)
Executive Vice President, CFO
Duke Realty Corp.
As chief financial officer of one of the leading commercial real estate companies in the country, Mark Denien keeps the books on 142 million rentable square feet of space with an aggregate value of more than $10 billion.
But that's just the beginning. Internal audits, accounting, capital markets, tax, investor relations and more all flow through his office.
That means a lot of decisions for someone who, while attending IU, wasn't sure what he wanted to do.
"It was either accounting or finance, and I even remotely considered being a math teacher," Denien said. He gravitated away from the heavy math, though, and became more interested in the business side.
After graduation, he took a job in public accounting with KPMG (his first client was Duke Realty Corp.). He knew public accounting would be good for his career but was unsure whether he'd actually like it. But he did—and stayed for about 16 years. "If you asked me halfway through if I would ever leave, I would have said no."
But he couldn't resist the opportunity to work for Duke.
"Because Duke had been my client, I knew the company very well," he said. "I don't think I would have cold-called a company that I didn't know."
He also felt, post-Enron, that the relationship between accounting firms and their clients was "starting to get more adversarial rather than advisory. I liked being an adviser."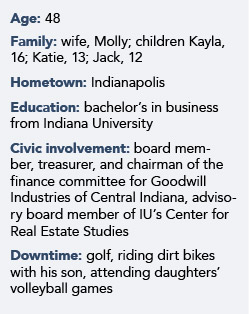 He joined Duke as chief accounting officer. Seven years later, in 2013, he became chief financial officer.
In the last 12 months alone, Duke has raised more than $2.4 billion in capital and paid off $1.4 billion in debt. In the process, Duke's debt-to-market-cap ratio has improved from 49 percent in early 2014 to 34 percent today. Nine of the 15 research analysts keeping an eye on Duke now rate the company as "outperform."
In addition to debt reduction, the company has deployed the capital it raised to finance growth.
Under Denien, Duke has continued to shift its asset mix away from suburban office buildings and toward industrial property, a sector that has grown from 36 percent to 73 percent of the company's portfolio. It also has beefed up its presence in the medical office market.
"We now have the best balance sheet of anyone in our sector in real estate properties," Denien said.
Still, he's got an eye to the future. "I don't know when the next recession will be," said Denien, "but there will be one and we want the best balance sheet in our sector when that happens so that we can take advantage of other people's mistakes."•
Check out more CFO honorees..
Please enable JavaScript to view this content.