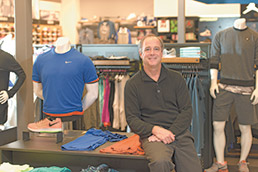 (IBJ Photo/ Eric Learned)
CFO
The Finish Line Inc.
During Edward Wilhelm's six-year run with The Finish Line, the company's dividend payouts have increased an average of 18 percent a year and the share price has grown from $8.50 to about $16. Meanwhile, revenue has grown from $1.2 billion to $1.8 billion and operating profit has grown from $72 million to $120 million.
That's a lot of shoes.
"In retail," Wilhelm said, "you open your doors to customers and so do your competitors. There aren't a lot of trade secrets. It comes back to how successful you are at executing your strategy."
A University of Detroit graduate (he holds the record there for stolen bases but admits that could be because the baseball program was discontinued 15 years ago), Wilhelm landed with Price Waterhouse, spending 10 years on the audit side of the business, primarily in retail.
The final stretch of his stint took him to Australia to provide financial expertise for Coles Myer, the country's largest retailer. Not only did he enjoy seeing that side of the world, but his eldest son was born there. And he scored a job offer out of it: Kmart, which owned 20 percent of Coles Myer, hired him as controller.
Just 33 at the time, Wilhelm found himself a young executive trying to work with a "very senior" Kmart on a strategy to compete with the freight train known as Walmart. "That didn't work out too well," he said. "But I learned a lot about retail, mostly from seeing mistakes made."
Kmart led to another challenging series of positions with Borders.
"At the time, Borders was in its infancy," said Wilhelm, who joined the company as vice president of finance in 1994 and became CFO in 2000. "We grew 30 [stores] to a peak of over 400 stores globally." But then the "Amazon wrecking ball" hit. Wilhelm left Borders on a Friday and was at The Finish Line the following Monday.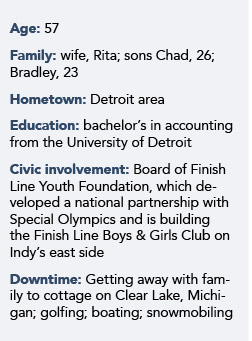 "They saw the value in my experience," he said. "We were going through significant change during that period between the founders and a new CEO."
An early order of business was to rationalize operations—including assessing which stores to close and which divisions to close or sell off—while also committing to make long-term investments in key areas like digital.
"We needed to make other investments to create long-term, sustainable growth," he said. "We started to understand what we defined as our core competencies."
Among the moves: a partnership with Macy's, which put Finish Line shops in 400 Macy's stores.
"We thought at the time we announced that it would take four to five years to do $250 million to $350 million of top-line sales, but now in the second full year, we're expecting between $240 million to $250 million. We're already at the low end of what we thought."•
Check out more CFO honorees..
Please enable JavaScript to view this content.