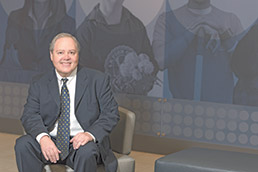 (IBJ Photo/ Eric Learned)
CFO
Kiwanis International
Bob Broderick is modest about his own achievements, preferring to trumpet those of his co-workers.
"They are the ones saving the lives of children," said Broderick, who joined Kiwanis International in 2013. "I'm just making sure we get a clean audit statement."
Yes, Kiwanis raises more than $100 million every year, and its members dedicate more than 18.5 million hours to projects in their communities and around the world. But that can't happen without management. And Broderick has proven himself by treating the organization, which some perceive as a club, as a business.
"I told the board we need to make a margin," he said. "No margin—no mission, no future. We have to develop products and services that members and nonmembers will purchase from us. Generally speaking, individuals no longer like to pay to belong to a community, but they will pay for premium goods and services." Those include insurance, group travel, travel assistance and job boards.
He also pushed for longer-term relationships.
"I don't go to someone with my hand out and ask for money," he said. "To us, sponsorship is developing a partnership."
For example, because Kiwanis builds playgrounds around the globe, a connection was forged with Landscape Structures Inc., which makes playground equipment.
"We call them a sponsor, but actually they get marketing rights and benefits for what they give. We promote them and get them in front of our clubs. We want mutually beneficial relationships."
Broderick was attracted to Kiwanis after seeing an ad that included the organization's Eliminate Project, which is dedicated to eradicating maternal and neonatal tetanus throughout the world.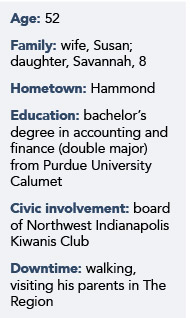 "I really didn't know much about Kiwanis," he said. "It's a very humble organization but very committed to accomplishing its mission and goals."
He came to the organization with a mix of Fortune 500 and not-for-profit experience. In the for-profit realm, he spent 15 years with manufacturing companies with revenue in the $4 billion to $5 billion range. He spent 12 years with not-for-profits, including the American Otometric Association, where he grew a student loan program to $113 million, making it profitable within two years.
"Some people are more comfortable doing debits and credits. I did that in my other careers," he said. "I'm more comfortable in the strategic part, developing tactics."
Broderick has to also keep an eye on the future. "We used to have members who loved to open new clubs, but that workforce/salesforce has been slowly dismantled." His board approved $4.2 million in spending over four years to train members and get them into communities to help build clubs in areas where Kiwanis doesn't exist.
Ultimately, all the efforts point in one direction, he said. "Our mission is helping children. We live and breathe it every day."•
Check out more CFO honorees..
Please enable JavaScript to view this content.