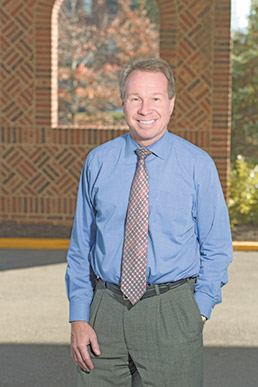 (IBJ Photo/ Eric Learned)
Assistant Vice President of Development
Ivy Tech Community College
Assistant Treasurer
Ivy Tech Foundation Inc.
Since Kevin Honigford arrived at Ivy Tech Foundation in 2008, its assets have tripled from $55 million to $176 million, with privately sourced contributions rising from an average of $13 million to $24 million. And all with a staff of four.
Specific efforts included securing New Market Tax Credits that allowed Ivy Tech to renovate a 13-story campus building on favorable terms.
"It was the most complicated business transaction I ever pulled together," he said. "It was awful … but netted $6 million, so was worth it."
Honigford also was instrumental in more than 15 real estate acquisitions to facilitate the college's expansion around the state, often securing deals at less than fair market, creating cost savings for Ivy Tech and tax deductions for sellers. In the process, real estate assets grew from $15 million to more than $80 million.
He worked with the president of the foundation not only to boost fundraising goals but also to change key drivers. Through collaboration with the 14 Ivy Tech regions, the plan included more face-to-face donor visits and, for the first time, million-dollar asks that boasted a 10 percent to 20 percent success rate.
A first-generation college graduate, Honigford grew up in small-town Coldwater, Ohio.
"When you are pretty green and good with numbers, you think accounting," he said. And, he added, when you are young and green and have an accounting degree, you look to a public accounting firm.
"I got lucky there," Honigford said. "I was picking up a Girl Scout cookie order from the intern coordinator at Bowling Green, and that led to a call the next day to interview with Ernst and Whinney in Toledo. I was off and running."
A job offer followed, and he stayed through a transfer to Philadelphia, leaving the firm in 1988 to get his MBA from Duke. "Blowing my life savings to go back to school wasn't fun," he recalled.
Lured to Eli Lilly and Co. in 1990, he soon was promoted into 11 jobs in 11 years, mostly in financial functions.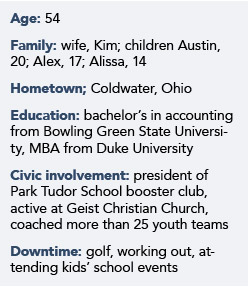 Work with a few smaller companies followed before he found a fit in 2008 with Ivy Tech and its foundation.
He started as an adviser ("It was, 'Hi, Kevin. Here's the computer system. Here's the files. Put the numbers together.'") and, within six months, he was asked to come on board full time.
Adding to the challenge: Within 15 days of his starting, the stock market collapsed.
"We had about $20 million in endowment drop to $16 million, and I thought I would get fired." While a 20 percent drop was significant, most foundations lost more.
"We managed our way out. All is good now."•
Check out more CFO honorees..
Please enable JavaScript to view this content.