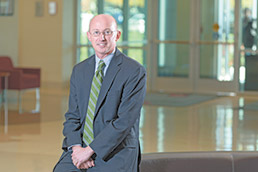 (IBJ Photo/ Eric Learned)
Executive Vice President, CFO
Indiana University Health
Ryan Kitchell has worked for as long as he can remember, beginning with a paper route at age 10, which he held for six years.
"That's been my longest stint in one role," he said.
It certainly wasn't his most influential. Since 2012, Kitchell has served as executive vice president and chief financial officer for Indiana University Health, now a $6 billion not-for-profit with almost 30,000 employees, more than 131,000 admissions and more than 2.5 million outpatient visits annually.
In the year before Kitchell became CFO, IU Health reported revenue of $4.3 billion and net income of $172 million. In 2014, revenue had climbed to $5.7 billion and net income to $726 million.
One of the key elements in that bottom-line strengthening was a shift from acquisition to integration.
"When I arrived as CFO, we had on average built or merged with another hospital every year for the last 10 years," he said.
What was needed, he felt, was a better, well-organized internal system. "We very intentionally paused on future opportunities because we were focused on making sure we were offering integrated and organized care, bringing each hospital and physician group onto a common platform."
Over the next few years, hospitals were moved to the same billing, financial, medical records, enterprise data warehouse and other systems, creating a consistent infrastructure to build on.
"It's hard to get one culture when you don't have common systems," he noted. "Now at least we have a foundation."
Kitchell's varied career includes picking up financial and economic skills with the Prudential Capital Group in Chicago, then moving to Indiana where his new wife was attending graduate school. He found work here with the Indiana Fiscal Policy Institute. He left to earn his MBA at Dartmouth.
Other work followed, but health care had been on his mind since senior year at IU, when his best friend and roommate died from brain cancer.
"That had a significant impact on me," he said, "and really helped shape my course."
"I was fortunate to talk my way into Lilly," he said, taking on roles in financial planning and treasury.
While watching an IU game, he ran into a friend who told him about a guy running for governor.
"You're a policy geek," the friend said. "Are you interested in helping?" Soon, Kitchell was doing heavy policy work for the Mitch Daniels campaign.
"When he won, Lilly was quite generous in sending me over to work on the transition between election and inauguration," he said. Two months later, Kitchell agreed to stay on for two years "and do my part before heading out of government."
"Six years later, I finally escaped," he said, after serving as director of the Indiana Office of Management and Budget, where he oversaw the Indiana Finance Authority and the controversial deals that led to Lucas Oil Stadium and the leasing of the Indiana Toll Road.
"I really focused on trying to keep our state afloat during the recession," he said.
Kitchell gravitated back to health care, IU Health and Methodist Hospital, where his roommate received treatment.
"I continued to have a thirst to try to give back," he said.
His time in government, Kitchell said, has been enormously helpful in his work at IU Health. "You can spend a lot of time speculating on who's going to get elected and what's going to pass," he said. "We take the view that, if we can deliver high-quality care for low cost, regardless of what happens in Washington or the Statehouse, we will be well positioned for whatever happens."•
Check out more CFO honorees..
Please enable JavaScript to view this content.