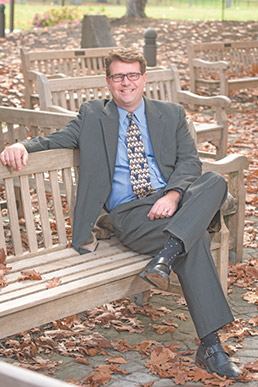 (IBJ Photo/ Eric Learned)
Vice President for Finance and Administration
Butler University
Shortly after he took the job as controller at Butler University, the Bulldogs were playing Indiana University, Bruce Arick's alma mater.
"It was kind of interesting," said Arick, who has since gone on to become Butler's vice president for finance and administration. "I wore red."
There's no doubting Arick's loyalty to Butler, though. For 24 years in a variety of positions, Arick and his team have erased historic deficits and, since 2002-2003, generated annual surpluses. In addition to managing the budget, they have enabled the university to invest in the future, including a batch of high-profile projects.
Butler's move to the Big East helped spur a $36 million fix-up for Hinkle Fieldhouse, a project that combined fundraising, historic tax credits and financing to modernize the 75-year-old building without diminishing its character.
"Folks didn't realize that Hinkle had a natatorium that was decommissioned over a decade ago and was being used as a very large storage closet," Arick said. "Now it's a weight room, a student-athlete academic and athletic training center, and administrative offices."
Then there's student housing.
"We have two residence halls that could probably live another 50-100 years," he said, "but they aren't environments attractive to today's students." As a result, a 633-bed housing facility, built in partnership with American Campus Communities, is going up on Sunset Avenue. It will be ready for move-ins in August 2016.
Another huge project is a recently completed, $20 million parking garage. The garage features 1,050 spaces and 17,000 square feet of retail. The first tenant is Scotty's Dawghouse, which will open in early 2016.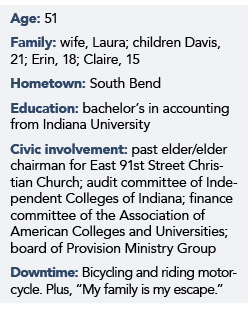 Next up is a partnership with the city to spruce up Sunset Avenue and the campus entryway at Sunset and 46th Street—a move aimed at giving Butler's grounds more of a campus feel.
When Arick arrived at Butler in the early 1990s, "it still had a very commuter-campus look with roads running through the center of campus. A lot of the projects are geared toward creating an environment that is going to be conducive to undergraduates, primarily residential, to get an education and experience campus while here."
In addition to managing the budget and high-profile projects, Arick is helping Butler put more resources into the sciences and the College of Business. Those efforts include adding to science spaces and moving the business school to a new facility.
Butler President Jim Danko has a vision for growing the institution from one more regionally recognized to one more nationally recognized and being able to sustain that. To do that, Arick said, means to "create a campus that is going to drive students from all parts of the country to want to come here. Certainly, a piece is brick and mortar, but having the programs and curriculums and majors is key."•
Check out more CFO honorees..
Please enable JavaScript to view this content.