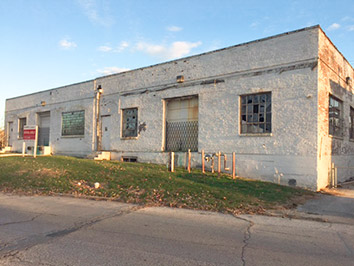 The lesser-known stretch of Massachusetts Avenue just outside downtown is littered with vacant industrial buildings that long ago gave way to larger warehouses surrounding parts of the city's outer loop.
But the neighborhood's community development corporation, along with the Department of Metropolitan Development and Local Initiatives Support Corp., are working to lure businesses back to the blighted area.
The Riley Area Development Corp. in early October concluded a months-long study of the 500 acres northeast of downtown to better determine how to revitalize the area.
Known as the Mass Ave/Brookside Industrial Corridor, the two-mile swath follows a CSX rail line from near downtown to Sherman Drive that runs between Interstate 70 and Mass Ave.
The aim is to tap various grants and loans, and perhaps even create a tax-increment financing district, to help small companies remediate properties and renovate the crumbling buildings.
"We call it legacy industrial," said Joshua Anderson, a principal of urban planning firm Anderson Bohlander LLC. "It's a lot of industrial that's pre-big-box in the suburbs."
Anderson Bohlander and Greenstreet Ltd. conducted the study for the Riley Area CDC.
Many of the buildings constructed before the interstate system transformed logistics are in various stages of neglect. But signs of hope are beginning to emerge.
In March, McNamara Florist bought a 176,000-square-foot warehouse on Ludlow Avenue as part of a $2 million investment to return its Fishers-based headquarters and distribution operations back to the city.
McNamara plans to move into the building, which has been vacant for several years and was once part of the old Master-Fit Corp. industrial complex, by mid-2016.
In addition, at the head of the corridor near downtown, efforts are under way to convert part of the 539,000-square-foot Circle City Industrial Complex into "maker space"—a collaborative area where artisans have access to industrial tools and programming.
Teagen Development Inc., the building's new owner, and the Riley Area CDC are renovating the south end of the complex —a portion that is roughly 120,000 square feet. The maker space will take up about a quarter of that, with the rest allotted for retailers, restaurants, offices and studios.
The north end houses several manufacturers, including the not-for-profit RecycleForce, the building's largest tenant.

Taft
"Circle City is a key project because it's a gateway into the community," LISC Executive Director Bill Taft said, "and it's the biggest building in the district."
Most buildings in the corridor are nowhere near that large. They typically range from 3,000 square feet to 15,000 square feet, making them ideal for small businesses, supporters of the revitalization say.
Small companies, however, usually don't have the financial wherewithal to invest in a property that might require hundreds of thousands of dollars in repairs. That's why the city is offering assistance to help spur redevelopment.
The city in early October received a $400,000 federal grant from the Environmental Protection Agency to help fund site cleanup assessments. The money could help up to 40 businesses, LISC said.
That's huge for a family-owned business that otherwise might look elsewhere for a location, said Nicholas Johnson, LISC's program officer.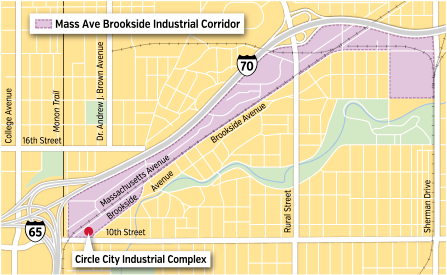 "They will be very hesitant if they have to spend money on environmental uses," he said.
LISC is offering grants for façade improvements and has its own brownfield fund totaling about $600,000 to help companies with costs.
Word is beginning to spread about the intentions to revitalize the area. Four building owners have listed their properties with real estate brokers within the past six weeks, said Emily Scott, program manager for the Riley Area CDC.
Bryan Poynter, an industrial broker at Cushman & Wakefield, acknowledges the area has accessibility and environmental challenges. But he said it also presents an opportunity for certain companies.
"For everybody, it won't work. But for some, it could," Poynter said. "There's no other place close to downtown that offers this kind of [interstate] visibility and cheap cost of entry."
Other area improvements could help revitalization efforts as well. Work is under way on a bike and walking path to connect Pogue's Run to the Monon Trail. And a trail could be built on a former rail spur to connect the Monon to Brookside Park, advocates for the area said.
Still, any real revitalization could take a decade.
"It's very much an incremental approach," Taft at LISC said. "It's to get people to do smaller things to add up to something big."
Besides the Mass Ave/Brookside Industrial Corridor, the city and its partners are targeting two other industrial areas:
• 16 Tech, which is bounded by 10th and 16th streets, White River and Fall Creek. The City-County Council voted unanimously earlier this month to approve $75 million in bonds for infrastructure improvements to get the 16 Tech development off the ground.
• East Washington Street Corridor, which is bounded by Interstate 65 on the west, Sherman Avenue on the east, New York Street on the north, and railroad tracks just south of Washington Street.•
Please enable JavaScript to view this content.