Businesses along the State Road 37 corridor are forming a group to gather information about a proposed $124 million redesign project and create a unified voice.
The project, which is expected to be officially announced Dec.10, would convert five traffic signal-controlled intersections from 126th to 146th streets into roundabout-overpasses.
Hamilton County Council members received limited information about the proposal Wednesday morning. It would be funded with $100 million from the state, $12 million from Fishers and $12 million from the county. The design would be similar to Keystone Parkway in Carmel with roundabouts built above S.R. 37.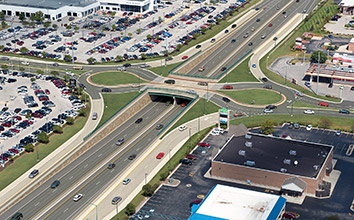 Bill Smythe, owner of Claude & Annie's near S.R. 37 and 141st Street, said he started contacting other local businesses about a month ago to form the 37 Business Alliance.
"We have been aware that this project was coming but there has been scarce information and details," Smythe said.
The stretch of S.R. 37 from 126th Street to 146th Street has been a hotbed of business development over the past decade, with numerous retailers, restaurants, apartments and auto dealerships opening and expanding.
Big growth has been seen at the 131st Street intersection, where the 104-acre Fishers Marketplace opened early last year. The development includes a Walmart Neighborhood Market, Lake City Bank, City Barbeque and at least a half-dozen other restaurants.
The Fishers Marketplace project prompted the addition of another intersection on S.R. 37 between 131st Street and 141st Street at a new road named 135th Street.
Hamilton County has discussed upgrading S.R. 37 for years as traffic congestion worsened. Nearly 45,000 vehicles travel the four-lane corridor daily, according to the Indiana Department of Transportation.

A previous proposal, a $234 million project stretching six miles and nine intersections, drew criticism from businesses regarding the lengthy construction timeline and impact of vehicles no longer stopping along the commercial route.Despite the shortened construction zone, Smythe said the same concerns remain.
"As a resident of Fishers, I think it's great to not have to stop at lights," Smythe said. "But as a business owner, not so much."
Smythe said he has almost 100 businesses interested in the alliance, but he expects that number to fluctuate as more details on the road project are released. No group meetings have been scheduled yet.
"There's no information to meet about, which is a problem, I might add," Smythe said. "Part of the problem is we don't have enough information to know what to be afraid of."
He said the purpose of the alliance will be to learn more about the project, share that information and to form a unified opinion.
"I would like it known that I'm not suggesting we will be an opposition voice … it's hard to say," Smythe said.
Daniel Wilborn, general manager for Monical's Pizza on Mundy Drive near the 141st Street intersection, said he will likely be involved with the business alliance as a way to know about the project and voice his concerns.
Wilborn said he's worried about a possible lengthy construction timeline and access to his restaurant after the roundabout interchange is installed.
"I'm worried I'm going to lose 50 percent of my business," Wilborn said. "If I lose half of my business we will either have to close or move to another location."
Smythe, who has owned his restaurant and bar since 2001, questioned whether the drastic change is needed. From his observation, the only time traffic appears to be congested is during the morning and evening commute hours.
"I'm troubled we're looking at this solution for what is a pretty short period of time," Smythe said Wednesday afternoon. "I'm looking at cars going by at 50 miles per hour right now."
Wilborn said local and state officials have the right intentions to address the traffic concerns, but they need to consider ways to help the local businesses.
"We are at an intersection that has no anchor business. There's nothing pulling someone to that intersection," Wilborn said. "A lot of the businesses in the area are very well-established, and they may be able to ride this out better than me."
Please enable JavaScript to view this content.