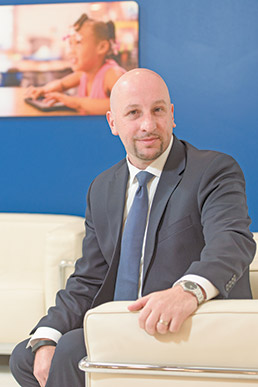 Senior Vice President, CFO
Project Lead The Way
We've all heard that if you love what you do, you never work a day in your life.
"Well," said John Visconti, senior vice president and chief financial officer for Project Lead The Way, "that's me in a nutshell."
"I feel blessed and honored to work with wonderful caring, passionate and highly talented people."
Founded in the late 1990s with the intent of working in seven or eight schools in New York, Project Lead The Way is now a national not-for-profit offering pathways in computer science, engineering and biomedical science to K-12 students and teachers. It now reaches 3,000 school districts.
Since Visconti joined the organization in 2010, it has experienced record growth in revenue and corporate and foundation support, increased service offerings, and invested in human resource programs and employee benefits.
For fiscal 2015, operating revenue is up 39 percent, net assets are up 37 percent, and cash balances (including invested funds) are up 64 percent year over year. In addition, the number of programs implemented for the first time is up 35 percent.
Visconti's plate of tasks was expanded in 2015 to include leading PLTW's supply-chain management team, ensuring that supplies and equipment get to more than 8,000 schools, 60 universities, and more than 20,000 teachers across the country. In that role alone, he has saved the organization about $100,000 by negotiating with vendors and implementing an electronic data interchange to reduce manual procedures while increasing accuracy.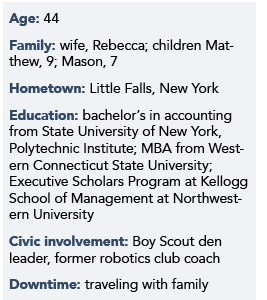 This followed a series of milestones for Project Lead The Way credited in part to Visconti's work. In 2011, he helped relocate PLTW headquarters from New York to Indianapolis, a move that did not cause service disruption. It has garnered a Best Places to Work distinction every year since, achieving the top ranking in 2015. He re-engineered the organization's business model in 2012, which produced a one-year revenue increase of 93 percent, turning a $4.1 million operating deficit into a $900,000 operating surplus.
"The number one thing is, how many students are we impacting?" Visconti said. "We're now well over a million students. That's a far cry from when I joined [when it was about 300,000]. But while that seems like a great number, we still have a lot of work to do. It's no time to rest on our laurels. There are over 50 million K-12 U.S. students out there. We have a lot of work to do."
And there are more people to do it. Staffing is up from about 155 last year to 180 as the organization continues to build its infrastructure. "As we continue to grow schools," he said, "we have to be able to support them. I don't see that growth stopping."
Even with all his success, Visconti decided he isn't done learning. When the supply-chain management function was added to his to-do list, he decided a "little more education" might be in order, prompting him to begin another master's program at Ohio State University in business operational excellence.
"I'm a lifetime learner," he said.•
Check out more CFO honorees..
Please enable JavaScript to view this content.