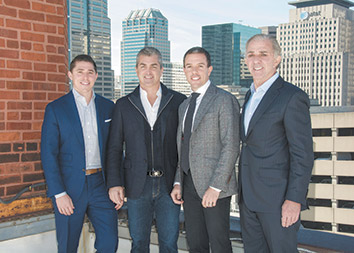 Veteran Indianapolis developer Jerry Gershman is turning to his sons to help the 22-year-old development firm pull off its most ambitious slate of new projects ever.
Among the several high-profile projects in its pipeline are the $90 million Greenwood Town Center, a $30 million second phase to the sprawling Bridges in Carmel, and a $15 million renovation and four-story addition to the downtown Marott Center.
Overall, Gershman Partners has more than $250 million of development in the works through 2018. A combination of favorable market conditions and an unusual run of luck amassing key parcels has led to the increase in activity.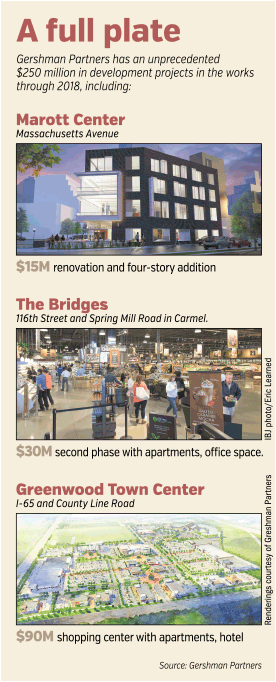 The flurry of activity comes after Gershman transitioned to second-generation leadership and ditched its traditional bread-and-butter retail projects in favor of more modern mixed-use development.
Even plans for the Greenwood project, with 600,000 square feet of retail, call for apartments and a hotel, as well as an entertainment and health care component.
"Our background is retail shopping centers, like Hamilton Town Center," firm co-founder Jerry Gershman said. "That was our future at that time, and times have changed."
Gershman Partners teamed in 2008 with Indianapolis-based Simon Property Group Inc. to build the 659,000-square-foot Hamilton Town Center in Noblesville, the ninth-largest shopping center in the metropolitan area. A second phase with 12 acres of retail is in the works.
On a much larger scale, the company expects to start construction in late 2016 on the Greenwood project, with completion targeted for late 2017. The project is still in the planning stages but should support multiple retail anchors and at least one hotel, said Eric Gershman, 36.
He is leading Gershman Partners in the new direction and assumed management of daily operations from his 72-year-old father, who remains active in the company.
"We're trying to be ahead of the times," Eric said. "The shopping trends have changed, and we're trying to be out in front of that."
Eric, who joined Gershman in 2002 after graduating from the University of Michigan, is one of three sons at the company who followed in their father's footsteps.
Ryan, 29, also a UM grad, came aboard in 2008, and Brad, 46, an Indiana University alum, has been at the firm since his father helped found it in 1993.
"It's always been fun and challenging," Jerry said. "I'm fortunate that I have three sons that sort of got the same bug."
Another son, Jason, graduated from the University of Wisconsin and works in online media in Chicago.
Veteran developer
The elder Gershman started his real estate career in 1965 and ultimately ascended to director of development at mall developer Melvin Simon and Associates, the predecessor to Simon Property Group.
Gershman left in 1993, when the company went public and changed names, along with son Brad and fellow executives Adrian Brown and Tom Crowley. They formed Gershman Brown Crowley, which remained intact until November 2013.
Crowley left then to start his own company, T.M. Crowley & Associates. Gershman Brown Crowley had built nearly 1,500 CVS drugstores nationwide, helped develop Hamilton Town Center, assembled the land for Anson in Whitestown, and was one of the largest commercial real estate developers in the Indianapolis area.
Gershman Partners since has bought out Crowley's stake in The Bridges in Carmel, which Gershman is partnering with the Pittman family to develop.
When finished, the $100 million project will boast 63 acres of mixed-use development at 116th Street between Illinois Street and Spring Mill Road. Plans for the project call for 250,000 square feet of retail space, 500,000 square feet of office space, and 300 apartments.
A 120,000-square-foot Market District grocery store opened in October. Now Gershman and Pittman are preparing to start on the second phase, which will entail up to 300 apartments and a mix of office and retail. Small-shop space totaling 35,000 square feet is under construction and should be finished in the spring.
The Pittman family has owned the property since the early 1980s and originally attempted to develop an office park there. Family members sought out Gershman Partners after Carmel officials rejected the office plans, developer Steve Pittman said.
"We were really excited to partner with a former Simon president," he said. "We've been extremely happy with the partnership and impressed with their knowledge and expertise."
Ryan Gershman said the company is finalizing leases for the second phase and that interest has been "very strong."
Moving downtown
Gershman Partners has begun renovating the 109-year-old Marott Center. (IBJ file photo)
The Gershman firm has called Parkwood Crossing at East 96th Street and College Avenue home since its founding. But that's about to change.
Late next year, the company and its 11 employees will move downtown to Massachusetts Avenue as part of its $15 million Marott Center project.
Gershman bought the 109-year-old, 52,000-square-foot building for nearly $3.3 million in December 2013 from George Rubin and Elliott Levin, principals of the Rubin & Levin PC law firm.
Gershman broke ground Nov. 30 and is embarking on a renovation of the center that includes a four-story, 30,000-square-foot addition to be built on a surface lot. The company plans to occupy 5,000 square feet in the addition, called the Marietta, which also will feature 7,200 square feet of first-floor retail.
The $15 million renovation of the Marott Center includes a 30,000-square-foot addition. The company plans to move its headquarters to the building. (Rendering courtesy of Gershman Partners)
Outside Indianapolis, Gershman has started work in Bloomington on a 23,000-square-foot Old National Bank regional headquarters and bank branch on Kirkwood Avenue. Across the street, Gershman in June will begin tearing down the old branch to build a 146-room hotel with Chicago-based AJ Capital Partners. The hotel could be as tall as six stories and open by the fall semester of 2018.
But Gershman's crowning achievement would be the mammoth, $90 million Greenwood retail project—the company's biggest development in terms of dollars. At 600,000 square feet, it would rank among the area's largest shopping centers.
Greenwood Town Center is slated for the southeast quadrant of the interchange of Interstate 65 and County Line Road, and within just a few miles of the 1.3-million-square-foot, Simon-owned Greenwood Park Mall. No tenants are signed yet.
So can Greenwood shoppers sustain so many shopping options? Gershman is confident they can, especially since there's no land left along the retail-heavy U.S. 31 corridor.
"There are a lot of retailers that want to be in Greenwood but can't," Brad Gershman said.
If Gershman builds the center, it will succeed where others couldn't.
"The past is pretty well documented," Eric Gershman said.
National outdoors retailer Cabela's chose to build a store in Noblesville after it abandoned plans during the recession to build a giant store on the site. In 2014, Florida-based GoodSports Enterprises announced a hotel and indoor sports complex for the site. That, too, fell through.
Interest from hoteliers and apartment developers in particular drove Gershman to pursue the property, Eric said.
Longtime local retail broker Steve Delaney thinks Gershman can get the job done.
"Based on the preliminary plans that they have and the timing of the project, I think it will be very successful," said Delaney of CBRE Sitehawk. "I'm a big fan of theirs."•
Please enable JavaScript to view this content.