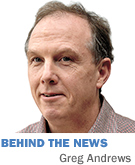 For years, being an investor in ITT Educational Services Inc. was exhilarating—and profitable. From January 2000 until September 2007, stock in the Carmel-based for-profit education company zoomed from about $15 to $127.
But since then, it's been stomach-churning for even the most steely nerved investor. After some wild swings, the shares swooned below $2 in May before settling in at their current price of around $3.50.
Troubles have rained down on the entire for-profit education industry, in part because of a crackdown by the Obama administration, which accused schools of exaggerating what prospective graduates could earn while saddling them with mountains of debt.
Also sending ITT into a tailspin were two off-balance-sheet loan programs the company helped set up seven years ago after the financial crisis shut down the market for conventional private education loans.
The programs, which doled out hundreds of millions of dollars in loans, blew up spectacularly, putting ITT on the hook for steep guarantee payments after defaults proved far worse than projected.
Then the legal onslaught hit. Class action attorneys showered ITT with lawsuits alleging fraud, and even the government joined the fray. The Consumer Financial Protection Bureau filed suit in 2014, charging ITT financial-aid staff "coerced students into taking out loans they did not want, did not understand, or did not even realize they were getting." And in May the Securities and Exchange Commission sued, charging ITT's top brass "routinely misled" the company's auditors.
ITT has fired back with equal vigor, denying it engaged in "abusive" lending and charging the CFPB was way overreaching even bringing the case. Similarly, it called the SEC suit flimsy. "Nowhere in the complaint is there a citation to a document or email that evidenced any intent to deceive anyone."

Modany
Amid the legal distractions, ITT continues to operate its schools and recruit students—though CEO Kevin Modany acknowledged in a conference call last month that it's tough sledding. In the third quarter, student enrollment fell 16 percent, to 48,231, compared with a year earlier.
"We continue to believe that the conversion of prospective student inquiries to new students is being impacted by prospective students' greater sensitivity to the cost of postsecondary education—even uncertainty about the value of postsecondary education due to the prolonged economic and labor market disruptions, as well as the impact of negative media," Modany said.
As executives focus on operations, ITT lawyers are zeroing in on cleaning up the legal quagmire—and they're starting to have success. Without admitting liability, ITT in November reached agreements to settle securities lawsuits in Indiana and New York for a total of $29.5 million, with $25 million to be paid from the company's insurance coverage.
ITT spokeswoman Nicole Elam said resolving the lawsuits "is a considerable step forward" that allows the company to "dedicate more resources to our mission of helping people improve their lives through participation in high-quality, career-based education."
All the legal wrangling has been a significant drag on the company. In the first nine months of this year, ITT spent more than $20 million on settlements and legal and professional fees related to lawsuits, investigations and tax matters. In the same period a year earlier, the tab was even steeper, more than $25 million.
Barrington Research's Alexander Paris Jr. thinks ITT finally might be turning the corner. He said shares could rise 80 percent.
"We recommend investors buy the stock at current levels and hold the stock longer term … as business returns to normal—an eventual resumption of growth (sometime in 2016) and significant margin expansion," Paris wrote.
Yet there still are plenty of reasons for investors to remain jittery, including the still-pending SEC and CFPB suits, as well as a smattering of other federal lawsuits filed across the country and continuing inquiries by state attorneys general.
And it certainly isn't comforting that now the U.S. Department of Justice has come calling. ITT disclosed this fall that the new inquiry involves whether the company's compensation practices violated the federal False Claims Act.
ITT wasn't specific. But the law discourages predatory recruitment practices by barring colleges from paying recruiters based solely on enrollment numbers.
The company said it is cooperating and that it believes its compensation practices comply with all laws and regulations.•
Please enable JavaScript to view this content.