The 48-story Chase Tower, the state's tallest office building, has more vacant space than it has had in decades.

But increasing speculation in the local office market that Salesforce.com will take a big chunk of space there could mean it is poised for a turnaround.

Occupancy at the end of September stood at just 68 percent, according to Cushman & Wakefield's latest Skyline Report, which tracks vacancy at downtown's 14 largest office buildings.
Moore
A total of 288,504 square feet is available for lease—an amount larger than the entire Barnes & Thornburg building at 11 S. Meridian St. Overall, 14 floors are vacant, including four formerly occupied by the building's signature tenant, JPMorgan Chase & Co., that are available for sublease, the report shows.

"It wasn't too long ago that it had pretty high occupancy," said David Moore, a Cushman & Wakefield office broker. "What's been most impactful is the Chase sublease space, which has come on and off the market a few times. When it's formally on the market, it has a big impact on the tower and the overall downtown market."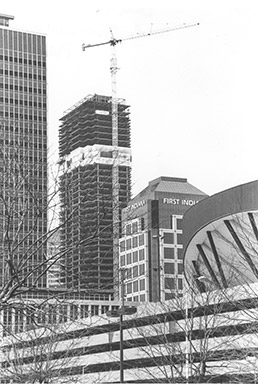 In December 1988, the emerging tower's neighbors included Market Square Arena. (IBJ file photo)
The skyscraper, developed by Columbus, Ohio-based Galbreath Co., was built in 1989. It originally was known as the Bank One Tower, but took the Chase moniker after the New York-based financial giant acquired Chicago-based Bank One Corp. in 2004.

The 905,000-square-foot building long was downtown's most prestigious address. When current owner Boston-based CommonWealth REIT acquired it in 2012, it paid $201 million—the highest price ever for a multitenant downtown Indianapolis office building.

The tower then was 95 percent full. But occupancy had dropped to 79 percent by the end of last year and to 68 percent through the first three quarters of this year, according to Cushman & Wakefield's report. Downsizings by Chase and other tenants who gave back floors for sublease have accounted for nearly half the vacancy.

Occupancy is expected to get a huge boost, however, now that Salesforce.com seems poised to follow through with plans to take roughly 200,000 square feet in the tower.

If Salesforce took six or seven 18,500-square-foot floors, it would cut vacancy nearly in half.

IBJ reported in October that Salesforce appears to have scrapped plans to build its own downtown headquarters and instead is seeking a huge block of space in an office tower to satisfy its aggressive growth plans.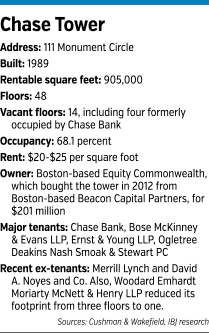 The San Francisco-based cloud-computing software giant, which bought ExactTarget Inc. in 2013 for $2.5 billion, employs 1,400 people downtown, up from 1,000 in early 2014.

The company's local headcount is expected to grow past 2,000 in the next few years, Scott McCorkle, CEO of the locally based Salesforce Marketing Cloud division, told IBJ in October.

Real estate sources said then that Salesforce had narrowed its choices to Chase Tower and Market Tower and likely would pick one by the end of the year.

Salesforce is now zeroing in on Chase Tower, the sources said. The amount of available full floors seems to have swayed the company.

Adam Broderick, an office broker at Jones Lang LaSalle, the leasing agent for Chase Tower, declined to comment on Salesforce's interest in the building but said a company expansion would provide a big boost for downtown.

"It would help reverse the trend from what was robbing Peter to pay Paul," he said, referring to downtown tenants enticed to move to other buildings by more attractive lease deals.

Chase Tower, which Broderick called the "marquee building in the state," lost several tenants during the economic downturn.

Merrill Lynch and David A. Noyes & Co. moved to the north side, and the Woodard Emhardt Moriarty McNett & Henry LLP law firm reduced its footprint from three floors to one.

But Broderick disputes Cushman & Wakefield's 68 percent occupancy rate because Chase and others are still paying rent on their space available for sublease. As a result, he said, it shouldn't be counted as vacant.

He pegged Chase Tower's occupancy in the low-80-percent range, still well below the 99 percent achieved before the Great Recession hit and prompted a slew of corporate downsizings.

Broderick, however, said the building's fortunes are improving. It has attracted 50,000 square feet of deals this year, including 36,200 square feet between real estate investment trust WP Glimcher and Terre Haute-based Thompson Thrift Development Inc., both new arrivals to Indianapolis.

New leadership at the company that owns the building is making a difference, Broderick said. CommonWealth REIT changed its name to Equity Commonwealth last year after management was ousted in a takeover led by billionaire investor Sam Zell.

"They have done a great job with not only spending money on the building but being aggressive in attracting tenants," he said.

Chase Tower's challenges are emblematic of the struggles of the larger downtown office market.

The 14 biggest office buildings tracked by Cushman & Wakefield's Skyline Report had a combined occupancy rate of 81 percent at the end of September, bolstered by OneAmerica Tower at capacity.

Besides Chase Tower, Market Tower (64.2 percent) and BMO Plaza (71.2 percent) had the lowest downtown occupancy rates among the largest buildings.

The overall downtown rate, though, has improved since the start of the year, when occupancy was 77 percent. In 2015's first nine months, the 14 buildings have absorbed a combined 125,000 square feet.

Some of that involves tech firms, such as Emarsys North America Inc. and Return Path Inc., which have taken space in Market Tower. Since buying the building in October 2014 for $52.7 million, Chicago-based Zeller Realty Group has embraced open-ceiling floor plans in an attempt to lure firms that might view traditional Class A office buildings as stodgy.

"The growth trend is in the tech firms; that's where we've seen all of our growth," said Tristan Glover, a Zeller vice president.

But none of the deals has been on the scale Salesforce is considering. Sealing that deal could encourage other tech firms to take the plunge.

"I think it could be a seminal point for how tech firms, the more progressive firms, view the downtown market," Moore at Cushman & Wakefield said.•