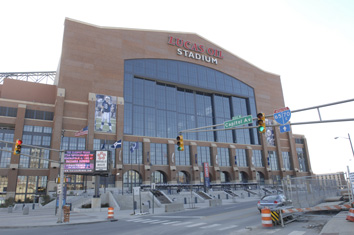 Annual gaming convention Gen Con has grown so large that it will need to use Lucas Oil Stadium next year for some of its events, organizers announced Thursday.
In its 13th year in Indianapolis, Gen Con enjoyed all-time highs for attendance and exhibitors at its four-day annual conference in August.
The convention, considered the largest of its kind, attracted 61,423 individuals for 197,695 visits, marking its sixth straight year of growth. Attendance in 2015 was up 9 percent from the previous year and doubled the 2010 crowd. It drew more than 400 exhibitors.
Gen Con said it would move several "large events into the stadium's exhibition space" in 2016, "including the wildly popular True Dungeon events."
True Dungeon is a life-size gaming experience that creates an immersive environment where players can solve puzzles and battle giant monsters. Gen Con said True Dungeon's 2016 event will feature an expedition through lava caverns and a mission across an underground city.
 
"Expansion into Lucas Oil Stadium is another exciting step forward for Gen Con," Gen Con CEO Adrian Swartout said in written remarks. "Gen Con has grown to host nearly 200,000 turnstile attendees, and it is evident that we have to accelerate our growth plans to meet attendee, exhibitor, and event organizer demand."
Gen Con said it would announce additional events for Lucas Oil Stadium in the coming months.
Gen Con 2016, scheduled for Aug. 4-7, will be the group's 49th annual convention.
 
Please enable JavaScript to view this content.