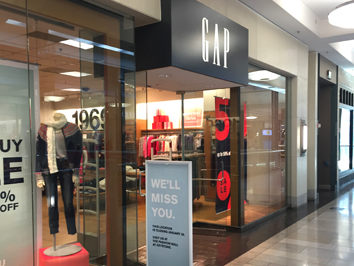 Three longtime tenants of Circle Centre mall are departing the downtown Indianapolis shopping destination, leaving big holes to fill on the third floor.
Gap and Gap Kids, which occupy a large chuck of adjoining space, plan to close Jan. 26, according to signs at the entrances that direct patrons to visit the Gap stores at the Fashion Mall.
In addition, the American Greetings card and gift shop, plans to close at the end of January after more than 13 years in the mall.
Although both departures will hurt mall occupancy, the Gap and Gap Kids closings will especially sting. The two stores were among Circle Centre's original occupants when it opened in 1995.
A Gap spokesman said via email that the San Francisco-based apparel retailer in June announced a series of strategic initiatives, including 175 store closings, to increase productivity and profitability.
There are 10 Gap stores in Indiana, including four in Indianapolis, according to the retailer's website.
"These changes will help Gap showcase its brand in the most successful locations, and enable the brand to remain focused on offering consistent, on-brand product collections and enhancing the customer experience across all of our channels, including a smaller, more vibrant fleet of stores," he said in the e-mail.
The Gap Inc., which also owns Old Navy and Banana Republic, has experienced sales declines at Gap and Banana Republic stores, impacting overall company growth. Gap Inc. sales were down 9 percent in November.
Gap shares closed at $26.49 each Tuesday afternoon, down nearly 40 percent since March.
Cleveland-based American Greetings Corp. didn't immediately respond to a request for comment.
A store employee said the company decided to close the location after learning its rent would increase.
Circle Centre landlord Simon Property Group Inc. declined to comment on the closings.
The departures at Circle Centre, meanwhile, come as Simon Property Group Inc. proposes an estimated $20 million in improvements to the mall, which spurred a downtown renaissance when it opened 20 years ago but now is showing signs of struggle.
The upgrades include an overall freshening of the 752,000-square-foot mall, including new lighting and seating, an upgraded food court, upgraded bathrooms, construction of a mall entrance on Georgia Street and improvements to other entrances to help better draw in passers-by.
Simon manages the mall but owns just a 15 percent stake. The rest is owned by about 20 local companies that pumped $75 million into the $320 million project in the early 1990s.
Circle Centre's occupancy slipped in 2014, but both profit and revenue grew. Non-anchor retail occupancy for the mall declined from 90.5 percent in 2013 to 89.5 percent last year, Simon said in its latest annual operating report to the city.
On the third floor, where much of the vacancy has occurred, non-traditional mall retailers such as Brow Art 23 and the SkyMart One Convenience Store, which opened in late September, have taken some of the space.
The mall suffered a huge blow in July 2011 when it lost Nordstrom, one of its two anchors. But Simon slowly is backfilling the massive space. The Indianapolis Star and Yard House have taken some of it. And Cincinnati-based mod-Mexican eatery Nada is expected to open early next year, in addition to Denver-based Punch Bowl Social possibly arriving in May, IBJ reported in September.
 
Please enable JavaScript to view this content.