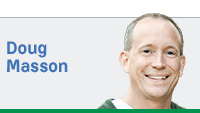 The world is getting more tightly intertwined all the time. We are now immediately immersed in events that take place thousands of miles away. Far-off atrocities are now the subject of swift political decisions and corresponding lawsuits.
In particular, I have in mind Gov. Pence's reaction to the mass shootings in Paris and the ensuing lawsuit of the ACLU of Indiana. Pence reacted to the attack by stating that he was directing all state agencies to suspend the resettlement of additional Syrian refugees in the state of Indiana. He cited his responsibility as governor "to ensure the safety and security of all Hoosiers." The ACLU lawsuit generally alleges that Pence has exceeded his authority with respect to immigration in violation of federal law.
The most immediate result of Pence's actions was that a Syrian family being relocated to Indiana was prevented from coming here and went to Connecticut instead. The likely long-term result of this policy is that the state of Indiana will have the privilege of paying attorney's fees to the ACLU. The impact on our safety will be negligible at best.
Many things kill many people around the world and even in the United States from time to time without prompting gubernatorial action. None of the people responsible for killing the folks in Paris appear to have been Syrian refugees. Refugees are heavily screened, and it seems that coming into the state as a refugee would be one of the more cumbersome ways of going about terrorizing Indiana were one inclined to do so.
So, how to explain this misdirected overreaction? Fear and/or cynical political calculations are the most likely candidates.
I have previously discussed in these pages the problem the United States has with firearm violence—a problem about which Indiana appears poised to do nothing. Indiana's inaction on this front appears to have an impact not only on Hoosiers but on the citizens of Chicago as well. Chicago authorities claim that 60 percent of guns recovered in Chicago crimes come from out of state with Indiana, at 19 percent, being the largest outside contributor.
Chicago is not and ought not be Pence's first priority, but it appears evident there is a long list of issues closer to home that threaten the safety and security of Hoosiers before one ever gets close to the threat, if any, posed by Syrian refugees.
Part of the problem is that humans are notoriously bad at risk assessment. Fear comes first. Assessment of risk follows along. We assign a higher risk to things we most fear rather than fearing in proportion to the risk. Snakes and spiders are scarier than cars, which are far more deadly. Spectacular, fear-inspiring incidents like the Paris attack prompt a much stronger, more immediate reaction than low-level dangers that lurk in the background like, say, pollution and smoking.
Knee-jerk policy decisions do not keep Hoosiers safe or secure. Rather, such decisions tend to reinforce the fear, whether rational or not, that is inspired by media programming devoted to keeping viewers emotionally invested enough to watch through the next commercial. Pence is hardly the first lawmaker to react precipitously to the news of the day.
When I was drafting bills for the Legislative Services Agency, I saw plenty of "ripped from the headlines" bill requests from legislators. However, Hoosiers need their leaders to rationally prioritize risks and make decisions accordingly. That is not what happened with the governor's Syrian refugee policy. •
__________
Masson is a Lafayette attorney, author of Masson's Blog and former counsel for the Legislative Services Agency. Send comments on this column to ibjedit@ibj.com.
Please enable JavaScript to view this content.